Solution Orders and SAP S/4HANA Cloud
Scheer Netherlands build a long lasting experience with SAP Cloud ERP and the deployment of solutions for Professional and Technical Services. We implemented internally this solution to support our own consulting practice. Beside our internal implementation, we have done various local and international implementations to deploy SAP Cloud ERP for professional and technical service organizations. With the ongoing trend of Servitization – "Anything-as-a-service' models" - SAP responded with additional functionality focused on selling combinations of tangible and intangible products, including the underlying financial controlling and account principles with the release of Solution Orders as part of SAP S/4HANA Cloud.  This Blog is to explain the basic concept and the capabilities of Solution orders for Professional Services with SAP S/4HANA Cloud or Technical Service with SAP S/4HANA Cloud.
Solution Order represents an end-to-end process that spans from creating a solution order to delivering products of different categories, such as physical goods, one-time services, long-running services, and subscriptions. This includes the integration with invoicing and controlling.
What are the 5 key features of Solution Orders?
SAP S/4HANA Cloud - including the Intelligent Enterprise features make it all data and task driven via the following 5 key features of Solution Orders:
Manage Solution Orders
Orchestration of Solution Orders
Progress Monitoring of Solution Orders
Solution Orders Specialists
Solution Order Analytics
Manage Solution Orders
Manage Solution Orders: to create and manage solution orders. There is a dedicated Solution Manager App or Solution Orders can be handled via API's. Solution Orders cover the following actions:
Sales of Physical Goods
Service, Expense and Service Parts for one-time services
Service Contracts for long-time agreements
Subscription Billing
Customer Projects including Project Items for Services
Fixed-price items for services 
Solution Orders pricing categories cover the basic time, materials, procurement, and expenses items. In addition there are five categories to support fix price service processes. This supports billing of service products which consist of several items without requiring sales confirmation for each individual item. These items will generate the corresponding service order's fix price items after the solution order items are released. The Fixed Prices items are: Fixed Price Expense Items, Fixed Price Non-Stock Service Parts, Fixed Price Service Parts, and Fixed Price External Service Items.
Configurable Products for Service Contract Items
The advanced variant configuration makes it possible to define characteristics and values of individually configurable service products directly from the Manage Solution Orders application. When adding service contract items to a solution order, you simply navigate to the configuration screen to select attributes of the service contract product to determine the value before releasing the configuration. Releasing the configured item and saving the solution order triggers the creation of a follow-up service contract that contains the price and configuration information from the solution order.
Credit Memo Requests for Solution Orders 
It is possible to make invoices with sales orders items, service orders items, service contracts items, and subscription items and use them to create credit memo requests. Once created, these will also be visible on solution order progress, giving a full overview of the solution order process.
Orchestration of Solution Orders
Solution Order Orchestration includes the automatic creation of follow-up business transactions from the Solution Order items, like a service order from a service item. Orchestration also includes the automatic forward and backward data exchange during the end-to-end process. For example the latest service confirmation status, billing status, and rejection status from the follow-up service order.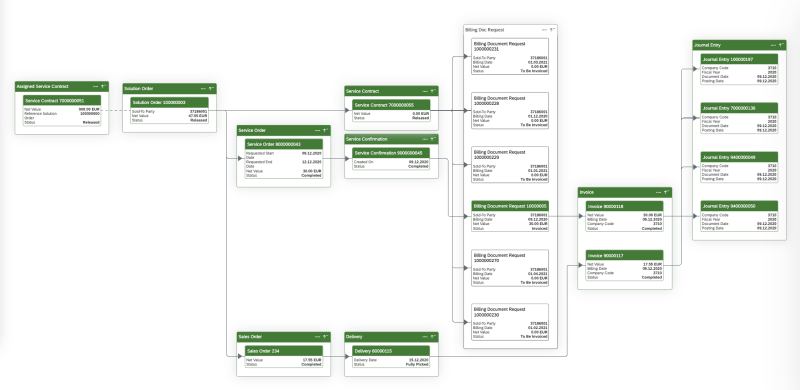 The orchestration feature works seamless with the Situation Handling within SAP S/4HANA Cloud to provide employees along the end-to-end process with information and pointing them to steps that need to be carried out manually.
Progress Monitoring of Solution Orders
The Solution Order Progress App provides a detailed overview of the end-to-end process in the form of a color-coded graphic. From the graphic, you can navigate to the respective business objects to solve any issues directly. In addition to the graphic, the solution order progress contains a list of the items from the solution order. 
The Solution Order Progress feature provides a visual representation of an entire solution order, with key data displayed on separate nodes. Of course, what counts as key data varies between customers. These nodes can be extend at both the header and the item level to display the data they need most. Customers can now choose to add fields that aren't shown by default, but which exist in the underlying application using data sources extensions. This includes also custom fields using the Custom Fields & Logic app.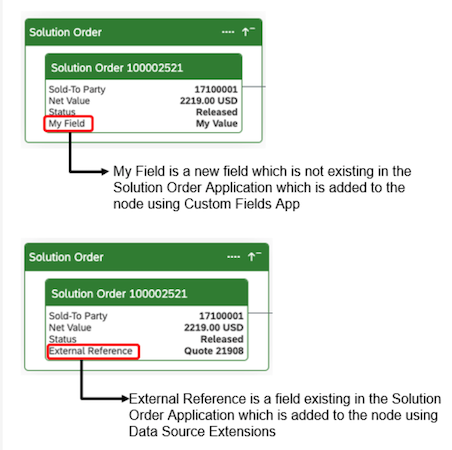 Solution Order Specialist
In order to manage the flow, data and tasks, there is the ability to define special role(s) for the Solution Order Specialists to manage access and privileges to the Solution Order and related Apps. A solution order specialist can get an overview of the progress of a solution order which may consist of various follow up documents in the form of a network graph on the solution order progress page. However, the solution order specialist should also be able to navigate to each follow up document in order to obtain extra details of a particular document.
Solution Order Analytics
The Analytics parts is one of the strong features of SAP S/4HANA Cloud, as it fully integrated in all functionality.  The standard enabled Analytics supports context and role-based insight related to real-time data. In various apps for Sales Analytics, you can search for a Solution Order and display it as a reference transaction in the process flow for Track Sales Order Details.
More Details
Below you will find some additional links to provide you with additional information about the capabilities of SAP S/4HANA Cloud and Professional and Technical Services: