Professional Services and SAP S/4HANA Cloud, Public Edition
In this Blog, I want to share the capabilities of Professional Services as part of the functionality of SAP S/4HANA Cloud, Public Edition.  It is  good to know that Professional Services was the first sweet spot in the initial release of the Public Edition in 2017. Now in 2023, Professional Services is one of of the many sweet spots of SAP S/4HANA Cloud, but still a strong functionality to support your service division.
In this blog you will find a compact overview of the Professional Service features that we have implemented recently at client sites and internally at Scheer.  
Scheer runs Professional Services
Scheer started in 2020 with the transition to move to SAP S/4HANA Cloud, with Finance, Control and Professional Services. The Cloud ERP was selected to support the growing path of the Scheer Group to new business concepts and the upcoming business in other countries.
It was our team in the Netherlands, with the SAP S/4HANA Cloud skills, that prepared the first move to SAP S/4HANA Cloud to support the Dutch operations.  After this first step, we continued with HQ functionality in Germany and the country roll out to Germany, Austria, and Switzerland.
Experiences with Professional Services
Over the past years we have done the following projects where Professional Services was the core of the solution.
Project Backgrounds:
A: Transition from SAP Business ByDesign to SAP S/4HANA Cloud,
B: Transition from SAP ECC to SAP S/4HANA Cloud
C: Integrations with SAP S/4HANA Cloud and SAP Concur
D: Integration with  SAP S/4HANA Cloud and SAP Build - dedicated App
Concept of Professional Services
The Professional Services solution gains real-time visibility into your projects' performance and profitability, using the following features:
A single solution to create and manage all data related to projects.
End-to-end core finance and project accounting to deliver client value profitably.
Billing and invoicing to streamline the accounts receivable process.
One single customer invoice with all the details.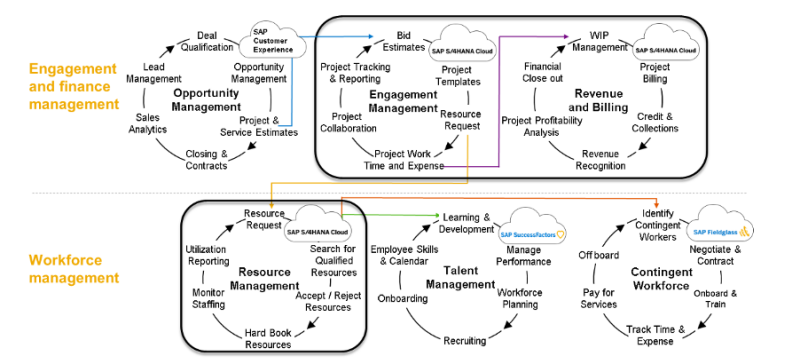 Features Professional Services
Project Management: SAP S/4HANA Cloud include project management capabilities that help professional services organizations plan, execute, and monitor projects. This can involve project planning, resource allocation, budget management, and project tracking.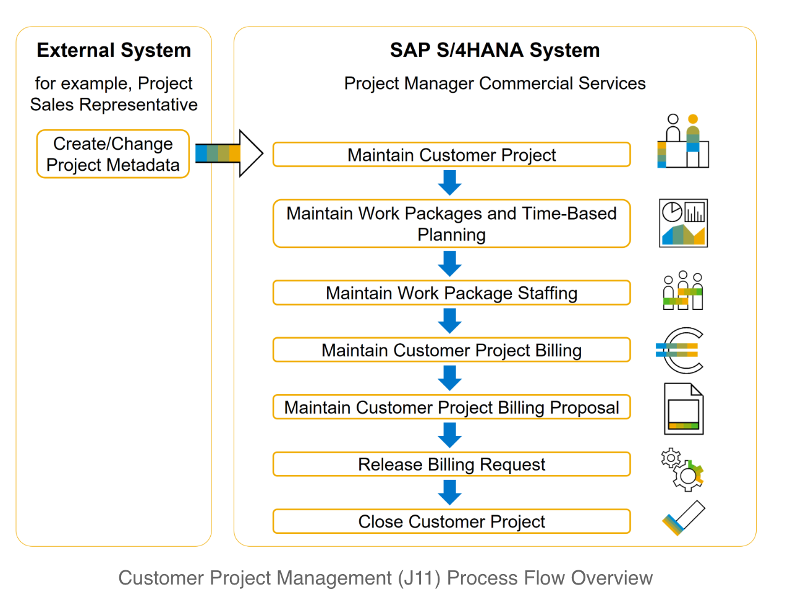 Resource Management: Tools for managing resources, including human resources, equipment, and materials, to ensure efficient project execution.
For Resource Management there are two flavors. The basic version is included, the advanced version requires an additional subscription fee.
With the basic resource management tool you can see the availability of the resources and monitor the KPI's.
The advanced version can help you with sourcing requests, to find the most suitable person based on skills, requirements and availability. The advanced version assumes the resource manager takes care of the complete resource management part of projects.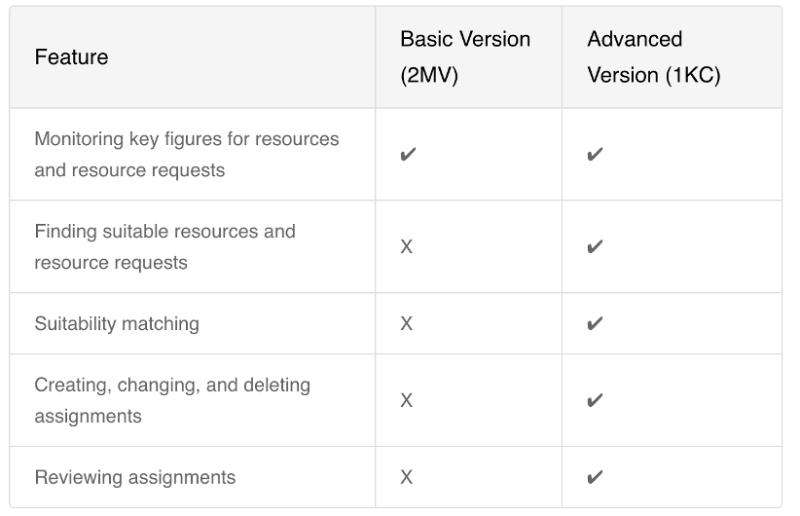 Financial Management: Event-based revenue recognition, comprehensive financial tools for managing billing, and financial reporting in line with industry-specific accounting standards. A very special new feature in Professional services is the event-based revenue recognition. This means that whenever costs are booked to a project, the expected revenue is booked simultaneously with it. This will make sure your Project (cost/revenue) always give you the actual numbers.
Time and Expense Management: Features for tracking and reporting billable hours, expenses, and reimbursement processes. More advanced Expense management is covered by the SAP ECO solution SAP Concur.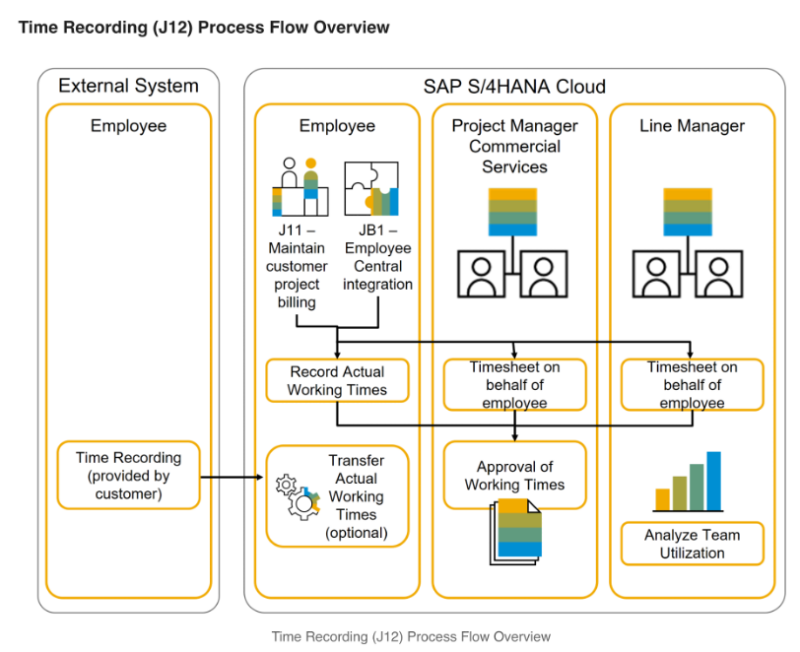 Time recording can be done in two different ways. Time recording can be done by the employee himself or a timesheet can be entered on behalf of done by the line manager or the project manager.
Billing and Invoicing: Automation of billing processes, generation of invoices, and integration with accounting systems.
The project billing is specially designed for professional services giving your company the option to initially create a project billing request. In this you can select which hours you wish to invoice, write off or postpone to another moment. The Preliminary document can be sent to the customer for approval or an internal approval or the billing document can be created directly, and the invoice send to the customer.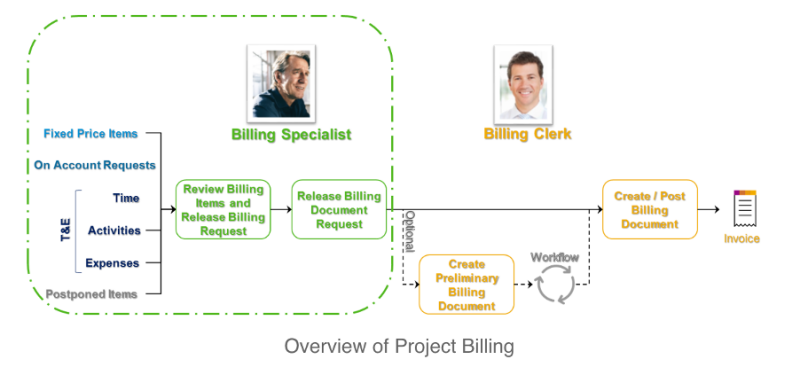 Service/Material Procurement: Procurement of services and materials are possible on the projects. Expensive purchasing and hiring external employees for your projects is both possible.
Analytics and Reporting:  Embedded Analytics and Reporting Features are standard available to gain insights through project and utilization analyses.
Internal project management:  This includes the full project lifecycle from effort calculation through billing and involves project setup, time recording, resource management, billing, accounting, monitoring, and forecasting. Streamline and improve project margin by planning and tracking internal project lifecycles with an integrated real-time platform for project accounting, time recording, resource management, and billing. Deliver projects on time and within budget. Conceptualize and monitor customer projects from bid through billing and plan and track internal projects from effort calculation through accounting.
Intercompany Process: Professional services companies executing customer projects usually execute them in a multitier mode in headquarters and multiple subsidiaries model for better cost, quality, and time benefits. The headquarters executes a customer order for delivery of services and material. The headquarters decides a part of the project to be executed in a subsidiary based on predefined criteria. The subsidiary usually delivers a part of the customer project executed by the headquarters. The subsidiary invoices the headquarters for the service provided.
The intercompany process can also be defined within a Two-Tier ERP model - with SAP ECC and SAP S/4HANA.
Easy connectivity with HR and Workforce: Standard integrations possible with SuccessFactors, Concur, Ariba, Fieldglass. Easy to connect with Hire-to-Retire, Travel-to-reimburse and External Workforce processes.
More information: