2302 Release Update for Public Edition of SAP S/4HANA Cloud
The SaaS solution with SAP S/4HANA Cloud, Public Edition, is growing incredibly fast. This growth is due to the number of customers who have chosen this SaaS-ERP as a primary ERP system or integrated with the SAP ECC system (Two-Tier ERP). The Saas-ERP has also grown tremendously in terms of functionalities. The strength of SAP's SaaS-ERP is that companies can deploy these new functionalities immediately without lengthy IT projects. In short, with SaaS-ERP, the business has control over the deployment and additional deployment of capabilities to respond quickly and appropriately to their business needs..
Highlights of the 2303 release Public Edition SAP S/4HANA Cloud
New Collaboration Features
The strength of SAP S/4HANA Cloud is supporting end-to-end business processes. This implies that the processes need to be integrated and that employees - both internal and external collaborators/partners - can efficiently work together. This collaboration is aimed at bringing Data-to-Value together: it is not about being able to share but to efficiently providing the right insight to act immediately. Collaboration features added or expanded in the 2302 release include the following:
Integration with Microsoft Teams
This feature enables collaboration by sharing your company data in real-time with your colleagues through Microsoft Teams channels like Tabs! Your employees can work directly on tasks and make informed decisions thanks to better visibility and easy access to up-to-date filtered information.
Integration with Google Workspace.
Special Templates can be deployed within Google Sheets. After completing all relevant info, you can then upload and post it to SAP S/4HANA Cloud, public edition
Localizations for 51 countries
The strength of SaaS-ERP is the deployment in different countries and direct compliance with local laws and regulations. More than 200 scope items have been released for the new local versions and their country-specific features. The localizations expand from 48 to 51 countries. Argentina, Egypt, and Greece have been added to the 2302 release.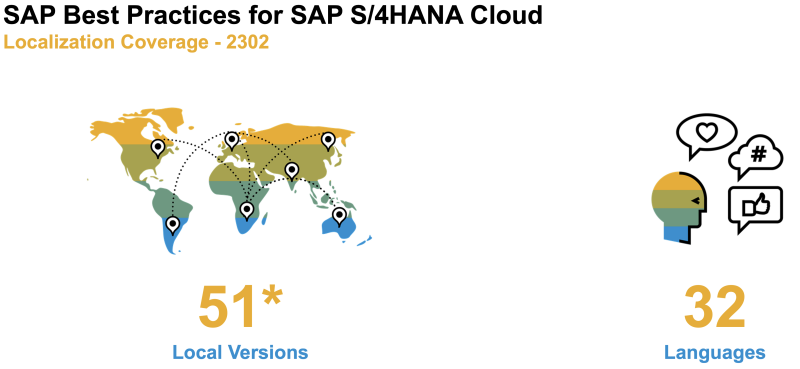 To mention some highlights of country-specific features: for Argentina, Validation of VAT fields in sales orders and daily VAT reports for purchases and sales. For Egypt, electronic invoicing for inbound and outbound scenarios and ODN for outbound invoices, credit and debit notes. And finally, for Greece, purchase account management and ODN for outgoing invoice documents, among others.
Last October, SAP released the local version of Croatia with EUR as the country's currency, allowing customers to avoid currency conversion efforts by going live after the EUR conversion. Two new local versions for Subscription Billing and Revenue Management (SAP BRIM) are in place for Australia and New Zealand.
Two-Tier ERP Scenarios.
Master data replication between headquarters and subsidiaries the most critical aspect for the smooth operation of processes within two-tier ERP scenarios. Master Data Replication using SAP Master Data Integration (MDI) service for two-tier ERP is available. Through the SAP Business Technology Platform, the SAP MDI service is deployed. This provides a consistent view of master data in the hybrid landscape. Master data replication between headquarters and subsidiaries is the most critical aspect for the smooth functioning of two-tier ERP scenarios.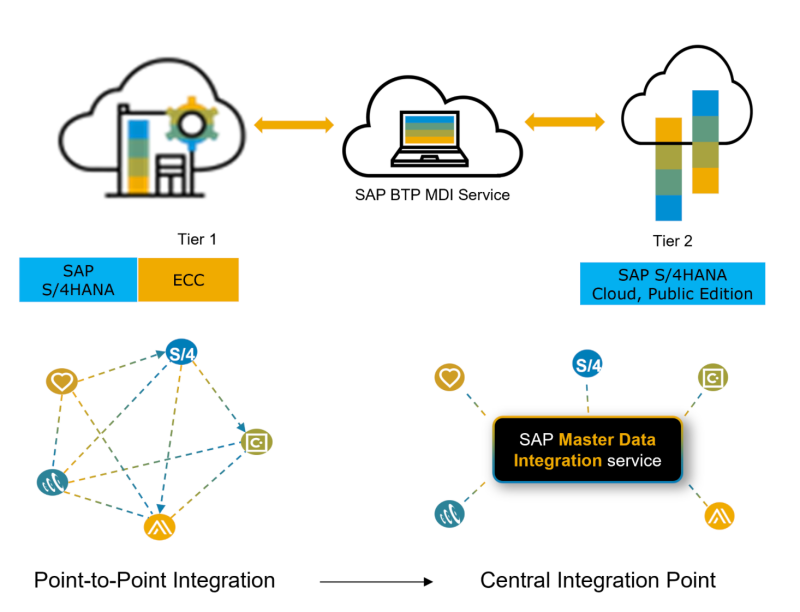 The SAP MDI service is based on the SAP One Domain Model, where objects can be assigned to a central domain for applications that speak different languages and configurations transaction data can be aligned. SAP MDI uses a hub and spoke model to enable standardization in the integration of master data and supports extensibility with customer-specific fields. Thus, it lays the foundation for integration and expansion scenarios without compromising the Core ERP.
Extensibility without modifying the ERP Core
SaaS-ERP is about configuring solutions without modifying the solutions themselves. This certainly does not imply a mandatory straitjacket within which to work. The SAP Extensibility Suite options offer numerous ways to add features without modifying the Core ERP.
On Sept. 1, 2022, our SaaS solution went live on the landscape with three systems for new customers, providing more flexibility to meet ever-changing business needs. SAP S/4HANA Cloud, public edition 2302, offers more than 4,700 APIs and nearly 300 released objects that you can use for your development projects.
Security, Identity, and Access Management
For SaaS-ERP, managing access is always an important issue. Additional solutions are often deployed alongside SAP S/4HANA Cloud. In the 2302 release, a new service called Identity Management for SAP S/4HANA Cloud and Integrated Products is active. This allows step-by-step instructions for identity management for SAP S/4HANA Cloud, public edition and integrated products.
For access management, there are several new apps and features for major maintenance. To take one example, the new app "Maintain Business Roles Group" allows you to create business role groups to which multiple business roles can be assigned, for example. This makes it very easy to organize and search business roles of certain categories and allows mass maintenance of business roles belonging to the same business role group.
SAP Build Process Automation
Since release 2208, Cloud Studio Bot Templates with Machine Learning have doubled for users starting with SAP Build Process Automation. These pre-delivered bot templates help to quickly get started with the most on-demand use cases in SAP S/4HANA Cloud. These templates can be further extended with workflow elements such as business rules or approval forms to flexibly automate larger, more complex business processes and engage more stakeholders than individual use cases.

SAP Activate Methodology
The methodology, specifically, aimed at the SaaS environment to implement and maintain SAP S/4HANA Cloud, also called Cloud Application Management (CALM).
In the 2302 release, CALM 36 Activate tasks have been enhanced with procedures to help you better use Cloud ALM. You can see how these SAP Activate tasks relate to apps in SAP Cloud ALM, whether setting up the project, capturing and managing requirements, testing, release management and operations. SAP Activate now gives you prescriptive steps on how to get the most value from using SAP Cloud ALM in your SAP S/4HANA Cloud, public edition project.
Highlights by Business Module
Finance
Flexible allocation of ledgers and accounting principles
Availability of up to 16 accounting periods
Time-dependent changes in Profit Center possible
New bank statement monitor for multiple bank accounts
Improvements to Engineer-to-Order cost postings on projects for profitability analysis
Governance, Regulations and Compliance.
Integration with Signavio
Effectiveness testing in SAP Financial Compliance Management for use cases such as SOX compliance
New Manage Electronic Documents app to support local reporting compliance in 24 countries
Improved control of statutory report validation and correction
New Scope item 6NL for integration with managing security controls in SAP Privacy Governance
Production
New Capacity Evaluation app for improved capacity analysis of focus areas
Improved configuration for Average-Daily-Use (ADU) and Classification calculations
Flexible definition of Display Horizons based on decoupled Lead Time in Demand-Driven Replenishment
Modernized app "Manage Material Coverage" with improved usability
MRP live: Enabling simple distribution key to extend the use cases and scenarios for running MRP live on SAP HANA
New app to monitor production supply areas for more efficient management of your can jobs production master data
New app for setting up an area of responsibility for a supervisor with production orders for More flexibility, granularity and ease in selecting orders relevant to the user.
Integration with the collaboration capabilities of the SAP Enterprise Product Development solution
Supply Chain Management
New app for managing outbound deliveries that allows user customization, such as hiding, rearranging or adding new fields
Advanced integration between production and warehouse management in the area of production material request.
Ability to include unplanned freight costs in freight invoices to optimize the flow of freight costs to financial records.
Ability to edit inbound, outbound and customer return deliveries after distribution to an external warehouse management system.
Ability to edit outbound deliveries that have already been distributed to Warehouse Management.
Additional barcode scanning scenarios and functions.
Sourcing & Procurement
New self-service procurement app that provides opportunity users with a consolidated one-stop solution that provides a fast, intuitive and efficient shopping experience. Replaces the 'Create Purchase Requisition'and 'My Purchase Requisitions' app
Purchase Order Reminder to create and send delivery reminders for goods or services to business partners to remind them of overdue delivery dates.
Analytical product sourcing overview page related to sourcing projects and quotes
Improved configuration for distribution of unplanned delivery costs
Extraction of supplier invoice files from email and upload via Robotic Process Automation
Intelligent recommendation of material groups for centrally managed requisitions
Additional workflow capabilities for centrally managed purchase orders
Support for multiple currencies in procurement projects
Asset Management
New app to automatically generate recurring schedules
Improvements to asset maintenance schedule management
Availability of object lists in "Manage Maintenance Items" so that a relevant set of assets can be maintained periodically via a single maintenance order
Ability to collaborate externally with service providers and subcontractors through external catalogs
Ability to add documents to maintenance orders for externally procured parts and services.
Assignment of documents to parts in task lists
Sales
New 360-degree view app for customers
New configuration options for role-based access to price and cost details in sales orders
Maintenance of tax records as condition records in prices
Additional features in Manage Customer Returns to increase flexibility for users
Product Compliance
Support for handling dangerous goods shipped in tanks and in bulk containers
Control over substance volume tracking by individual compliance requirement and business process in Substance Volume Tracking for a compliance requirement
Support for multiple addresses assigned to a business partner in processes for shipments of safety data sheets
Integration of product compliance supplier control in the purchase planning agreement
Integration of product compliance vendor check into procurement information record
Ability to keep proprietary phrases in sync with phrase management to reduce user time and effort
Sustainability
New app "Our Ambitions" to visualize the performance of strategic ESG ambitions and KPIs
Integration of data from SAP Sustainability Control Tower into SAP S/4HANA Finance, for EU taxonomy
Ability to calculate Freight Transport Footprints to understand the environmental impact of goods transport.
Environment, Health and Safety
New app 'Emission Statements' to collect, store and calculate relevant emission statement data for regulatory reporting
Integrated waste management analysis to aggregate, analyze and compare data from waste transport documents.
New feature to create new safety instructions and new revisions for existing safety instructions for all hazardous materials in your plant
Professional Services
Improvements to the Staffing proposal for a resource request
Enterprise Portfolio and Project Management
Display of production order costs in the project cost report
Inclusion of allocated order costs in the Project Budget Availability Report
Ability to Pass Down Settlement Rules in investment projects
Solution Order Management
Integration of SAP CPQ with Solution Order Management.
Free delivery for Solution Orders
Service
Ability to use serialized parts through service and repair confirmation
Scheduling and dispatching of repairers for internal repairs with SAP Field Service Management
Follow-up of service quotes with additional services and spare parts to increase process efficiency
Making decisions on follow-up activities for multiple in-house repairs to increase efficiency
Human Resources
New "Worker Overview" app to display and view employee information (for employees and temporary workers), including personal information, work arrangements and additional personal information ability to rehire an employee who previously worked for the company within the Manage Workforce app
Two-Tier ERP
Integration of SAP Analytics Cloud with SAP S/4HANA Cloud and SAP S/4HANA allowing cash managers to retrieve current and forecast cash flow and planned figures from subsidiaries and use them as reference data for developing group liquidity plans.
MRP real-time visibility and coverage for product demand and planning data between Tier 1 and Tier 2 systems
Project-based Engineer-to-Order execution between headquarters and subsidiary systems
Localization
Three new local SAP versions in 2302 for Argentina, Egypt and Greece.
Technology Topics
Improved "Upload CSV files" feature of the Migrate your data Migration Cockpit app, provides additional flexibility to populate staging tables with data. Using CSV files, in addition to XML files, provides more flexibility to fill staging tables with data. In addition, several databases and spreadsheet tools support importing and exporting to CSV (Comma Separated Values) format.
Product and Business Partner master data governance features consolidation, mass processing and data quality management for local governance in S/4HANA Cloud.
Custom CDS Views for data extraction.
CDS View entities to create custom intelligent scenarios
Custom situations monitoring in Monitor Situations Extended app
Situation Knowledge Graph for Intelligent Situation Automation is an extension of Situation Handling on the SAP Business Technology Platform that allows you to analyze situation data and process situations automatically using business rules.
Advanced monitoring maps and functions in SAP Mobile Start
Additional Information
See our knowledge base for an overview of details about SAP S/4HANA Cloud and the Intelligent Enterprise Components
Check out our Webinar schedule for upcoming topics.