SAP Launches RISE with SAP – Business Transformation as a Service
The second decade has shown us something with the pandemic: the speed of change has increased and responding to these changes is becoming the key to success. In an ever-changing global environment, companies across all industries are feeling the pressure to innovate and stay ahead. However, for companies, the expected costs and organization of a large-scale digital transformation – including the migration of their current Enterprise Resource Planning (ERP) system – are high. Large-scale innovation and implementation projects typically mean upfront investments and long wait times until the benefits materialize.
SAP now has a solution where this transformation can be deployed as a service – in subscription form: RISE with SAP.
RISE with SAP, SAP's new 'business transformation as a service offering, provides companies with access to a wide range of products and services in a single subscription model, meaning that companies can transform on their terms and according to their schedule, with the Cloud solutions of the SAP portfolio at its heart. The RISE with SAP offering makes technology, systems, and processes affordable. It also enables companies to benefit from significant savings in overall management costs with up to 20%
From Scheer, we supported SAP customers with the successful implementation of SAP Cloud ERP since 2012. "RISE with SAP" and its transformation service supports companies to accelerate the transition to the Cloud. This will allow companies to migrate from their existing on-Premise ERP platform to the Cloud in a cost-effective and strategically sound way," says Ferry Bogaards, Managing Director Scheer the Netherlands
The subscription model aligns with the way we consume many services in today's digital economy. This transformation to S/4HANA is cost-effective, as no capital investment is required. Also, this service provides access to several additional tools and networks to start the transformation together with your business partners.
In short, the RISE with SAP offering consists of the following components:
Business Process Redesign
Technical Migration
Business Technology Platform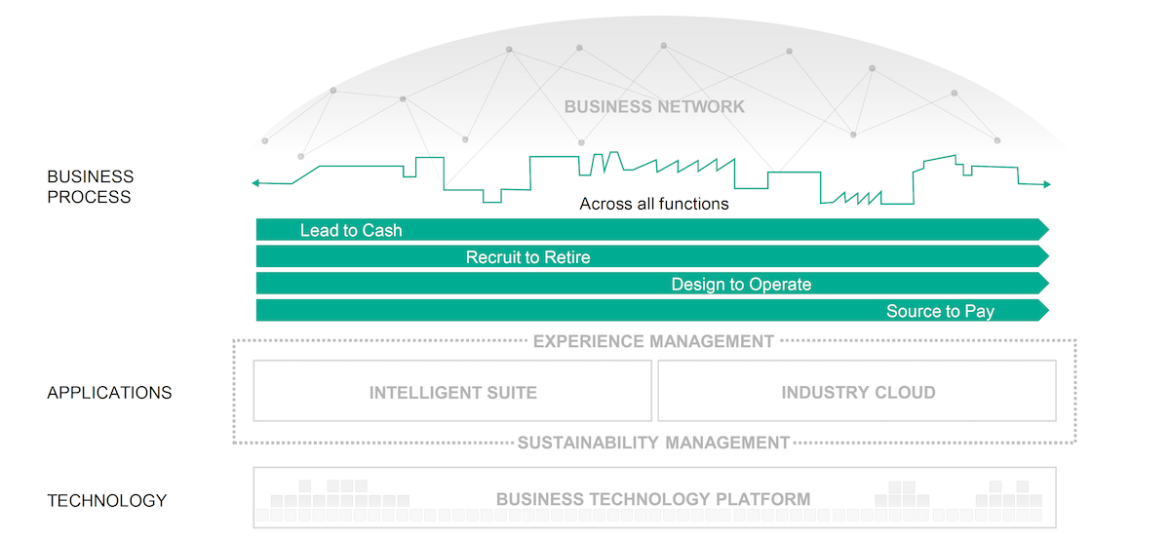 Additional information from SAP on Rise with SAP can be found here.
Business Process Redesign
Entirely in line with the Scheer approach for ERP projects, we work from an end-to-end process utilizing process analyses and real-time monitoring. Process improvements lead to transparent workflows with additional automation possibilities based on the new Intelligence Technologies, such as Machine Learning, Artificial Learning, and Robotics Process Automation.
From Scheer, we have years of experience with Aris BPM and our own Scheer Process Automation Suite, with which process mining, process modeling, and the establishment of process workflows have been the success within our projects for years.
We are looking forward to working with SAP and their already acquired Signavio portfolio to give substance to Business Process Intelligence.
Signavio was founded in 2009 and has optimized more than two million processes worldwide. The cloud-based Signavio Business Transformation Suite gives companies more visibility, compliance, and efficiency to achieve – leading to more revenue or profit through operational excellence. Signavio supports more than one million users from offices in Germany, the USA, UK, France, Netherlands, Switzerland, Sweden, Canada, Singapore, Japan, India, and Australia.
Technical Migration
For transformation, a range of preparatory, analytical, and enabling tools and services exist to facilitate a seamless transition from your current ERP environment.
We have extensive experience in setting up and executing both Brown, Blue, and Greenfield migrations from Scheer. Since data is one of the most critical drivers of intelligent business operations, the migration and build-up of data to the new Cloud ERP environment are vital.
Scheer has entered into a strategic partnership with SNP to deploy additional migration tools for the Brown and Bluefield migrations for SAP S/4HANA.
Intelligent Enterprise
With the Intelligent Enterprise, SAP focuses on supporting complete end-to-end processes rather than a variety of applications. SAP will ensure a seamless connection and integration of the SAP ECO system. In this way, customers will experience simplicity and functionality for optimizing processes.
SAP S/4HANA fundamentally forms the Intelligent Enterprise. SAP S/4HANA provides innovation and Cloud solutions through the 'Software as a Service' model (SaaS), while customers can preserve their investments by converting their existing systems.
Choosing Between Private and Public SAP S/HANA Version
SAP's brand new S/4HANA Private Cloud Edition (PCE) allows companies to still move their on-premises Enterprise Resource Planning solution to the Cloud without losing key functionality, configuration or data, and enjoy the benefits of a Cloud Model, including the subscription model.
For the Private Cloud version, there is also the option to deploy Hyperscalers for the required Infrastructure-as-a-Service. In short – everything to the Cloud, but companies can strictly control its implementation according to their Cloud strategy.
This new Private Cloud Edition bridges the gap between the Public Cloud and on-premises ERP solutions. This edition is a subscription-based SaaS model with full support, hosted on hyper-scale infrastructure, while still having the flexibility and benefits of an on-premises solution, including the ability to configure and develop as the customer sees fit.
The Public Cloud with SAP S/4HANA Cloud is the perfect solution for companies looking for rapid innovations at the lowest possible TCO. Here, a clean Cloud ERP, without brownfield migrations and old legacy processes, actually ensures simplicity and much less future maintenance. It is our experience that a "Fit-to-Standard approach to using the SAP Industry Best Practices yields good results for the desired support.
Focus on END-TO-END Flows based on ONE-DATA Model
An essential component within RISE with SAP is the focus on complete End-to-End processes whereby SAP will take care of the SAP ECO-System's underlying applications, paying attention to a seamless integration for both SAP and Non-SAP applications based on the corresponding One-Data Model.
Starter pack for the SAP Business Network
The purpose of this is to realize dynamic, digital connections with business partners.
By establishing dynamic, digital connections with suppliers, logistics partners, and business assets to share data and elaborate workflows, applying network-wide intelligence to drive decisions, adapt quickly and keep improving.
Business Technology Platform:
From Data to Value – Data is essential to the operation and functioning of a business. Companies must interpret data in a meaningful way and find relevance in the noise created by various systems. In this regard, data is central. Companies need an effective strategy, governance, and data management model to harness all forms of data for practical and efficient use in supply chains, business networks, customer and partner eco-systems.
The SAP Business Technology Platform (BTP) makes this all possible and is the intelligent enterprise platform. With this platform for integrations, companies can increase their agility, scalability, innovations, and business value. The conversion of "data to value" applies to both SAP and third-party applications.
Which components does the SAP Business Technology Platform consist of?
With the deployment of SAP BTP, there is the possibility of obtaining a consolidated view of on-premises, Cloud, SAP, and third-party data assets and insights for making real-time decisions. An additional major benefit is the built-in Analytics & Intelligent Technologies present to accelerate customer value realization. The platform allows for integrating experiences from partners, customers, and employees, as an additional layer on top of traditional data.

Database and Data Management Layer
Analytics
Application Development & Integration
Intelligent Technologies
How will RISE with SAP work for your organization?
From Scheer, we have years of experience deploying SAP Cloud ERP as a replacement or an addition to an existing SAP ECC environment. The transformation with RISE with SAP is much more than a technological adaptation. Our transformation plan pays attention to the impact on employees, processes, and the used systems.
Let's talk with our experts to understand how RISE with SAP program supports your challenges.