Scheer Netherlands is celebrating 2022, its first anniversary as an SAP Public Cloud ERP Partner, for ten years.
In 2022, we reflect on our SAP Public Cloud journey of the past ten years by sharing a specific topic every month. In this fifth article, Axel Kleinjan answers, "What are the Myths and Perceptions of SAP S/4HANA Public Cloud?" Axel implemented several SAP S/4HANA Cloud implementations since 2018. 
How aware are customers of the Public Cloud version of SAP ERP's solution?
Even today, in 2022, I need to explain the capabilities of the SAP S/4HANA Public Cloud solution quite often as there is the first objection when Scheer propose to investigate the option of SAP S/4HANA's Public Cloud solution.
In general, there are questions or doubts about the capability in the following directions:
Not enough functionality
Limited localizations
Lack of Enterprise readiness
No References
No integration options
Extensibility capabilities
Inconsistent User Experience
ERP data in the Cloud is not secured
In this article, I will respond to the first four topics. The following story covers the other items.
Let me first highlight the package your organization gets with the subscription to SAP S/4HANA Public Cloud.
What is SAP S/4HANA Public Cloud?
SAP S/4HANA Public Cloud is a complete system with built-in intelligent technologies. It assists enterprises in standardizing their processes from top to bottom, dealing with innovations from within their industries and managing resources while benefiting from the newest technology features. It contains the following solution components: SAP S/4HANA Cloud application, SAP HANA Database, and SAP Business Technology Platform. SAP maintains the infrastructure, platform and ERP solution. It comes as a service with annual 2 major releases (Feb, Aug) and monthly updates. This Public Cloud service runs with top-level security and availability for 24x7x365.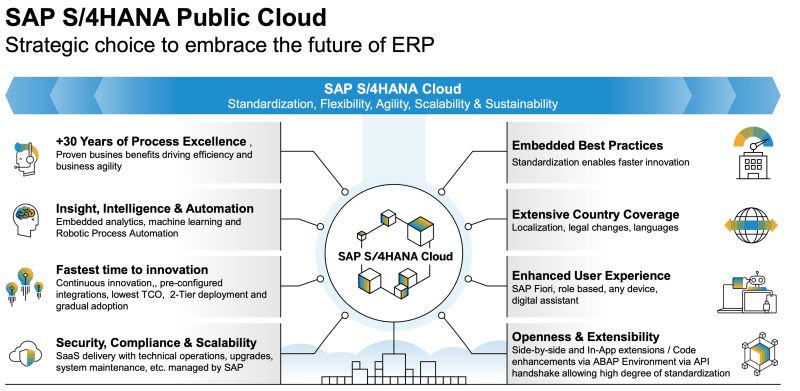 Three pillars of SAP S/4HANA Cloud's intelligent ERP
SAP S/4HANA Cloud incorporates three technologies that form the foundation of intelligent ERP:
Digital assistant: SAP S/4HANA Cloud uses SAP CoPilot. This Co-Pilot is a conversational digital assistant to interact with users and ERP applications and functions. SAP CoPilot uses contextual data about the user and the task they are performing to push information relevant to the task. The solution returns data into value!
Machine learning: SAP S/4HANA Cloud includes machine learning technology that "learns" how to perform and automate tasks that can be repetitive and error-prone when done manually, making them run more reliably and efficiently.
Predictive analytics: SAP S/4HANA Cloud includes embedded analytics that can help predict the outcomes of actions. The analytics tools are configurable to the user's needs and can be developed into apps, such as an inventory management app that can predict when stock will arrive or a sales quotation app that enables sales managers to determine the probability of converting sales quotations.
The functionality of SAP S/4HANA Public Cloud
In the current 2022 release of SAP S/4HANA Public Cloud, there is a perfect functionality available for the following areas: finance, sourcing and procurement, sales, professional services, manufacturing, asset management, and HR. Besides these business modules, there are additional Industry Features for the following Industry Solutions:
Professional Services
Automotive
 Oil & Gas
Cloud-First strategy within SAP S/4HANA Innovations
SAP S/4HANA Cloud is the priority for SAP when it comes to new functionality and innovations. This means certain parts are first or only available within the Cloud version. A good example is Solution Orders - the latest feature of SAP to support the Solution Business is only available within the public cloud version of SAP S/4HANA.
Yes - there are differences between the PUBLIC and the Private (On-Premise) Cloud. The discovery stage is to determine the fit of the Public Cloud version for your specific business case. Before making the decision, it is possible to decide on the fit per particular business area to ensure the right choice for SAP S/4HANA Public Cloud.
The chart below gives a high-level overview of the existing functionality based on the 2022 release.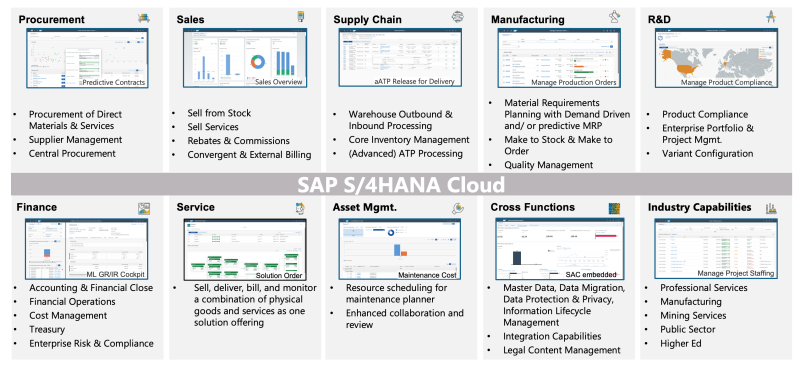 Localizations
For whatever reason, I do receive questions about the ability to deploy SAP S/4HANA Public Cloud across the globe. SAP S/4HANA Public Cloud has full global coverage with 43+ localizations and 27 languages. The good news is that your subscription contains the necessary localizations. There is no additional charge when you need 1, 3, or 43 localizations inside your solutions. The same applies to languages!.
Our SAP S/4HANA Public Cloud knowledge center contains the details of the specifics of the localizations and languages.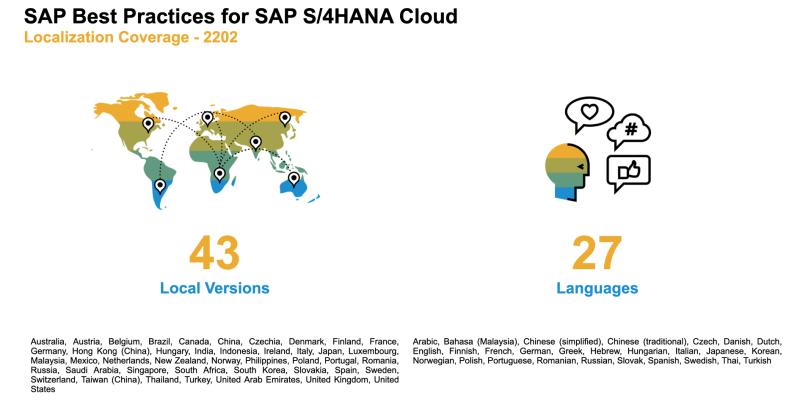 Enterprise Readiness
With SAP S/4HANA Cloud, you are getting a so-called Three-Tier environment. It starts with the Central Business Configurator. As part of the service, there are three tenant versions: Development, Quality, and Production.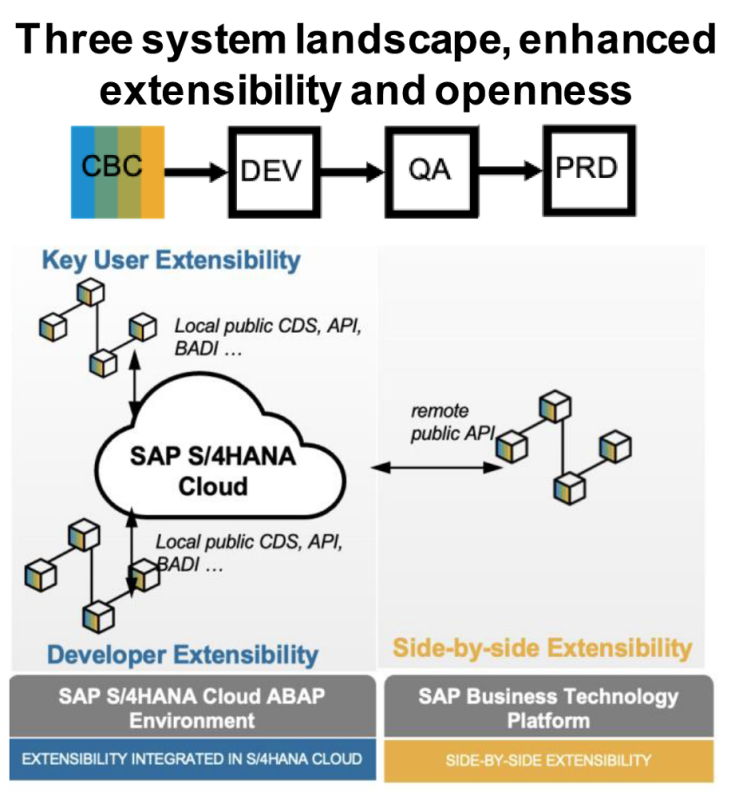 SAP Central Business Configuration is a new solution that will enable it to configure business processes spanning different SAP products from one central place. SAP Central Business Configuration will first allow the configuration of SAP S/4HANA Cloud but aims at the seamless implementation of end-to-end business processes across SAP's Intelligent Enterprise Suite.
You can use the Development tenant for ABAB-Development or side-by-side or in-app developments.
Use the Test tenant to test and validate new and modified functionality. SAP delivers new functionality, including (automated) Test Tools. These Test Tools are scripts to explore and justify the functionality of entire flows. In addition, there is the Cloud Application Lifecycle Management layer. CALM is to support for the whole of the lifecycle of your cloud solutions from build to run:
Full-stack monitoring of hybrid landscapes detects and resolves disruptions as quickly as possible.
Operation automation for efficient follow-up of detected issues as well as proactive task monitoring
Automatic project tracking and testing
The production tenant is fully maintained by SAP. Monthly there is an ongoing flow - with no interruptions of necessary patches. Twice per year, there is an upgrade to the last release (Feb and August).
References
There are references available. An easy reference is our in-house implementation of SAP S/4HANA Public Cloud for our Corporate and country divisions. Internally Scheer uses the Public Cloud to support the professional service business, including the intercompany transactions.
Over the last five years, we have implemented several successful SAP S/4HANA Public Cloud implementations, mainly for Manufacturing, Procurement, Finance and Professional Service Operations.
Can SAP S/4HANA Public Cloud support your business?
Of course, we need to know your details: what do you need? Where do you need it, and when do you need this? With the Public Cloud version, you will get an easy-to-main solution for a possible lower cost of ownership. It's our experience that implementations of 3 to 6 months are doable when the organization is able and capable of making this transition. Success depends on the transformation and adoption of the solution by all levels within the organization.
Axel Kleinjan
Senior Manager - Scheer Nederland