Josien van der Burg explains the details of the RISE with SAP proposition in combination with SAP S/4HANA Cloud.
Scheer Netherlands is celebrating its second lustrum as an SAP Public Cloud Partner. The first lustrum (2012-2017) focused on SAP Business ByDesign. This second lustrum (2017-2022) entirely focused on SAP S/4HANA Public Cloud. In 2021, we also started with RISE with SAP transformation services.
Josien van der Burg shares the details behind the "RISE with SAP" program in this article. SAP started this program in early 2021 to support customer's digital transformation journey.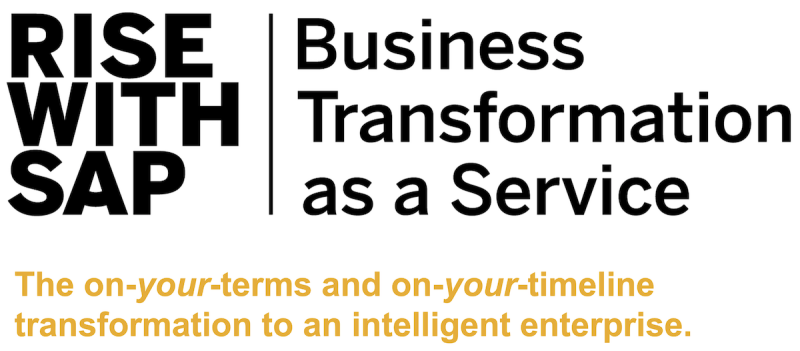 What is RISE with SAP?
SAP created an Intelligent Enterprise Strategy to help companies succeed on the path of digital transformations. The intelligent suite is the heart of this strategy.
In terms of solutions, the RISE with SAP Service contains the following elements, which are all available via subscription models:
Business Process Intelligence: Unified business process intelligence and cross-application analytics delivers new dimensions of real-time and predictive data insight and foresight to steer the business;
SAP S/4HANA Cloud ERP: its core handles the business processes. The Industry Cloud joins various solutions to deliver highly verticalized and innovative applications for specific industries and verticals;
Access to Business Networks: The business network takes this strategy outside your four walls – allowing allow to collaborate seamlessly with your trading partners to drive connected processes and experiences;
SAP Business Technology Platform: The platform delivers a uniform master data layer, cloud-based integration into SAP and non-SAP solutions, and low-code/no-code extension capabilities. The platform allows companies to innovate faster and stay lifecycle-compliant on top of their core applications.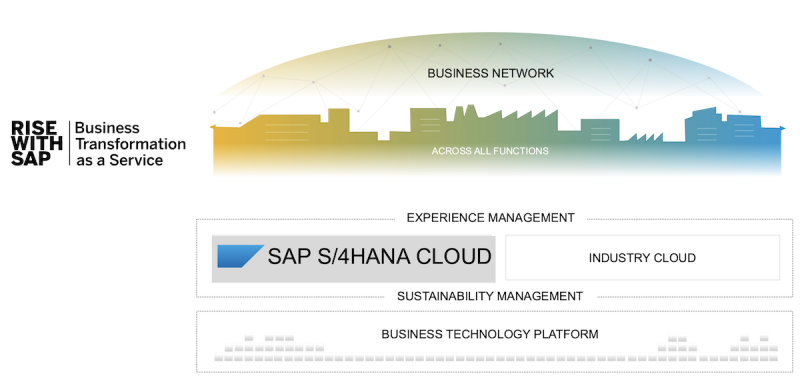 What is different between RISE with SAP and just SAP S/4HANA?
The difference is what we offer as a service. RISE with SAP includes a solution to support a complete end-to-end business case. The focus is no longer on a single or combination of applications. RISE with SAP is about end-to-end support on all organizational levels. Scheer embraced the RISE with SAP program from the first day as we always approach ERP implementations from a process point of view. RISE with SAP includes Business Process Intelligence, End-to-End support, access to Business networks, and seamless integrations via the SAP Business Technology Platform is a massive step in executing our Cloud-Minded Industry focus and reducing complexity at the customer side.
What are the benefits for the customer?
RISE with SAP is the service to move the transformation business forward faster. SAP and Scheer act together as the concierge service to take your business transformation strategy where you need it to go. With our ten years of experience implementing SAP Public Cloud, we know that benefits differ based on the backgrounds and legacy of companies related to their business and IT systems.
The main benefits are related to
Reducing complexity within your IT & Business systems;
Increasing the ability to adapt innovations and necessary business and technology adjustments;
Creating value out of data for better operations, insight, prediction, planning, and execution.
Your company i in charge to manage the timeline and terms to execute on your digital transformation journey, depending on your need:
Digitally driven business with the need for scale with speed
Early adopters of Cloud ERP can go further with RISE with SAP
Edge innovators that need to stay focused on their core can use the Public Cloud for new Business Opportunities
Established companies facing complex customized, on-premise systems can start their transformation with their standard processes first.
The point is there's no singular path forward. But every business is moving forward.
Does RISE with SAP includes SAP S/4HANA Public Cloud?
SAP S/4HANA Public Cloud is part of the RISE with the SAP service offering. SAP S/4HANA Public Cloud supports your business with high-standard Industry Best Practices, including options for out-of-the-box integrations and extensibility. The SAP S/4HANA Public Cloud solution is perfect for fully end-to-end and within  multiple country business operations.
The initial step is to investigate the fit for your business case:
Scope: Select from predefined best practices delivering end to end business processes which accelerate implementation and adoption;
Architecture: Define overall solution architecture including SAP line of business solutions and Business Technology Platform;
Geographies: Country scope and regulatory compliance;
Integrations: Identify integrations and SAP Business Technology Platform use cases.
Which Industries are covered by SAP S/4HANA Public Cloud?
The SAP Public Cloud version of SAP S/4HANA covers the following standardized processes: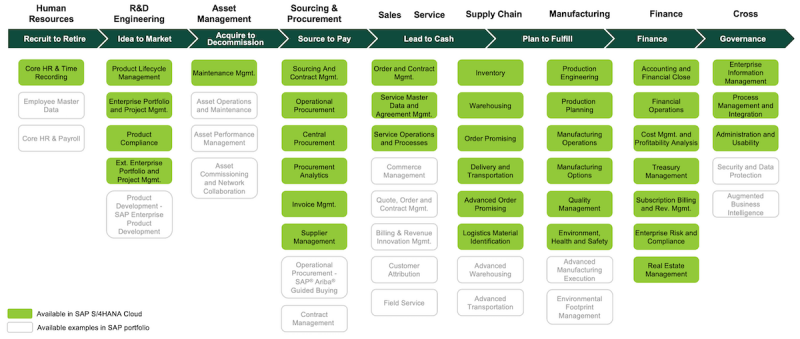 The Public Cloud version covers the following Industry Solutions:
Automotive
Oil & Gas
Professional Services
Retail
From Scheer, we have done several projects with Professional Services (we use it internally with Scheer GmbH), Discrete and Process Manufacturing, and Finance. It's our experience to have a closer look at the needs of the main end-to-end processes to justify the capabilities of the end-to-end processes.
Is RISE with SAP an upgrade of SAP ECC?
The answer is "No". RISE with SAP is a new way of working and a business transformation strategy as a service. The core of RISE with SAP exist of Cloud Solutions: SAP S/4HANA, Business Networks, and SAP Business Technology Platform. The main advantage is less IT dependency on systems, scalability, and preparation innovations. The business is in charge of configuring, steering, and managing its solution portfolio.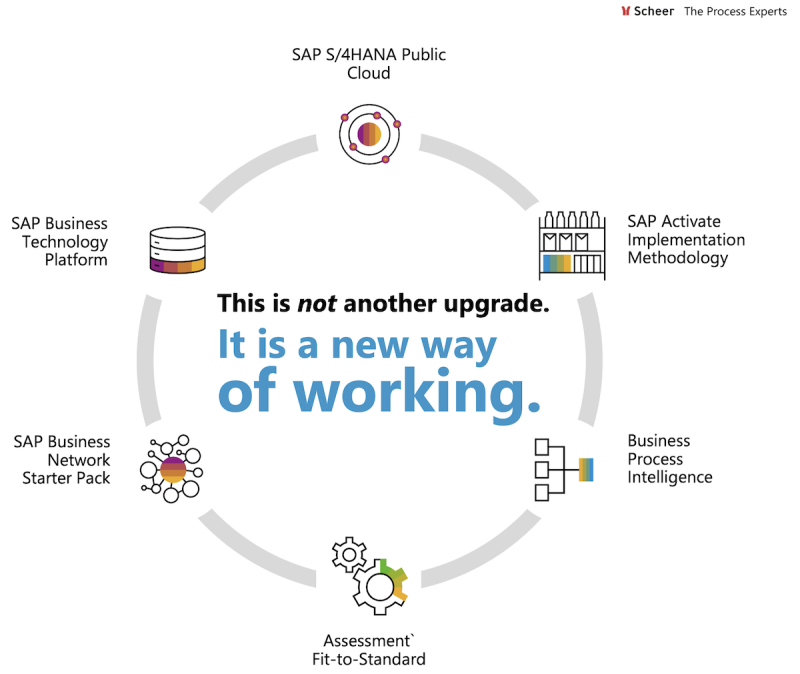 There is also no need to be on SAP ECC to start with RISE with SAP. The RISE with SAP runs without or together with SAP ECC.
What is the impact of RISE with SAP on your company?
Your organization can save significant time and resources on managing, maintaining, and developing solutions. These resources can be re-allocated to the business instead of boxes. Your organization gets a more predictable insight into the cost of current and future needs. Your business needs less time to go to the market with innovations and get direct benefits of the business networks and the integration options with other Cloud solutions.
Your company expects the following advantages, which are based on comparisons between organizations:
Lower TCO: up to 20% over five years;
Faster Deployment: more than two months of potential acceleration in deployment speed;
Reduce in-house costs: significant reduction (80+%) in sticky cost due to flexible operational solution environment.
What are the Cons related to RISE with SAP and Public Cloud?
Working with a Public Cloud ERP has some Cons in place that need to be addressed.  The business gets more power and IT is less in charge.
Your organization need to have an to live a Cloud Mindset. Embrace standard best practices and walk away from the ever-lasting customizition approach.
Using an integrated solutions requires a decent insight in internal end-to-end processes. Ensure that the entire staff is and remains connected.
Customizations are still possible, but in a different way.  We recommend to do as much with whit listed API's to ensure smooth updates. Nevertheless, there are options for extensibility and side-by-side extensions to include additional functionality.
Allocate resources to manage and maintain SAP Business Technology Platform to benefit from all features related to Testing, Access and Autorizations, Analyses, Integrations and extensibility's.
Can RISE with SAP support your business?
Of course, we need to know your details: what do you need? Where do you need it, and when do you need this? With the Public Cloud version, you will get an easy-to-main solution for a possible lower cost of ownership. It's our experience that implementations of 3 to 6 months are doable when the organization is able and capable of making this transition. Success depends on the transformation and adoption of the solution by all levels within the organization.
Josien van der Burg
Sales Manager - Scheer Nederland