SAP Business Technology Platform: What is its importance alongside SAP S/4HANA Cloud?
This blog covers the first part of the Dec.1, 2022 webinar about the SAP Business Technology Platform (BTP) in relation to the Software-as-a-Service version of SAP S/4HANA Cloud. The webinar focused on the following topics, among others:
 What is the status of SAP S/4HANA Cloud?
 Does it make sense to deploy the SAP Business Technology Platform?
 How is SAP BTP structured?
 What is the SAP Integration Suite?
 What is the SAP Extensibility Suite?
What is the status of SAP S/4HANA Cloud, Public Edition?
SAP S/4HANA Cloud comes in two flavours: the Private and the Public Edition. Scheer Nederland only works with the Public Edition. The Public Edition is a full-fledged Software-as-a-Service solution, which has been on the market since 2016. As of 2021, this solution has become more than mature. In the period 2019-2022, Scheer had the opportunity to do seven implementations mainly at production and service-oriented companies.
From Scheer, we are always working with end-to-end business process support. In the days of SAP R/3 or SAP ECC, we worked with ARIS (BPM tool from Scheer). For SAP S/4HANA Cloud, Public Edition, the processes come first.The application actually consists of 850+ scope items. Each scope item is part of an industry best practice, in the form of an end-to-end process or a specific functionality. As an example, the "Sell from Stock (BD9)" process or the "Advanced Available to Promise (1JW)" functionality. When configuring, the appropriate scope items should be activated. In this way, the industry best practice can be put together that suits the organization. Without customization, just configuration.
The Public Edition of SAP S/4HANA Cloud contains very broad functionality that belongs to a mature ERP environment. In the overview below an overview of the basic functionality that is present.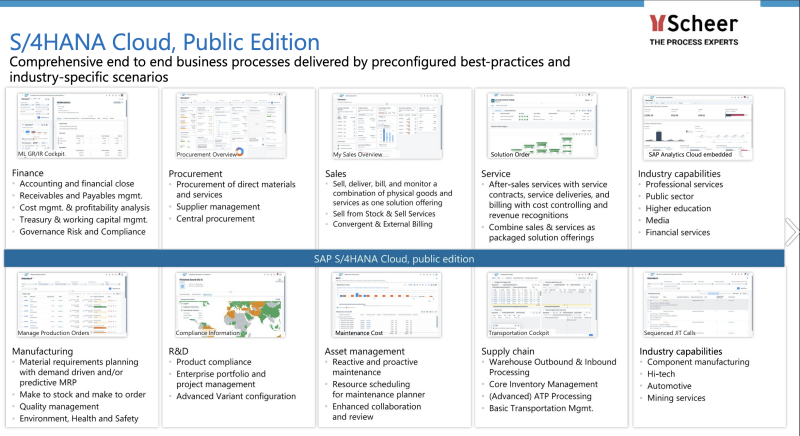 For SAP, the Public Cloud is the platform for which new innovations are made available first. Examples include:
SAP Launchpad for a unified user experience;
Finance and Parallel Ledger Accounting.
Event Based Costing and Event Based Revenue Recognition.
Solution Orders
The Public Edition has a February and August release and a feature pack is available each month, with the user deciding which functionality becomes active.
SAP S/4HANA Cloud Modular Application Portfolio.
Scope Items can be a part of SAP S/4HANA Cloud, Public edition, but there are also Scope Items that run as a micro-service on the BTP platform. As a user, you don't notice any of this.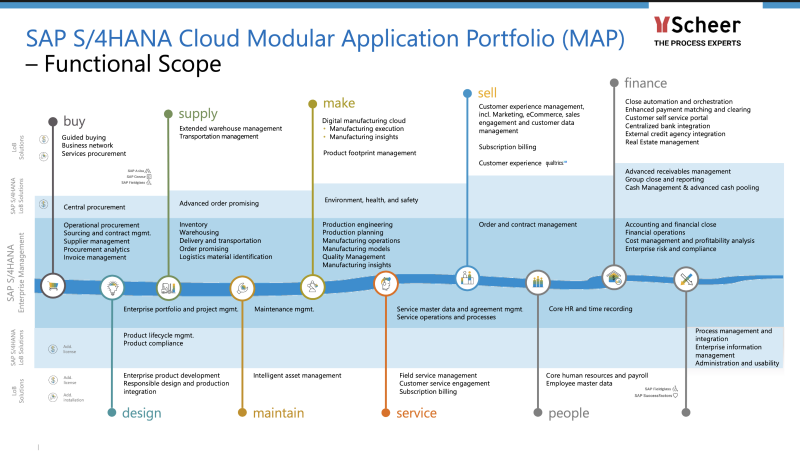 The diagram above illustrates the core functionality and the capabilities of additional functionalities, many of which are targeted at a specific industry focus. The user gets his launchpad and with unified users. The BTP takes care of the integration of all parts.
Does it make sense to deploy the SAP Business Technology Platform(BTP)?
We often get the question to what extent it makes sense to deploy the SAP Business Technology Platform?  This question is easy to answer with "Yes." First of all, because the BTP is part of SAP S/4HANA Cloud - both for the Public and Private editions. The BTP handles basic functions such as access and authorizations. But the BTP also handles the deployment of new technologies, such as Artificial Intelligence, Machine Learning and Robotic Process Automation. The BTP is the central hub for running  an Intelligent Enterprise.

Through the SAP BTP, integrations can thus be easily set up with additional SAP LOB solutions, such as SAP Ariba, Concur, SuccessFactors. But also with Industry Cloud Solutions. These are specific functions such as SAP Manufacturing Industry Cloud, Subscription Billing, Cloud for Projects, Advanced Closing Cockpit, as example functions.
What are SAP Industry Cloud solutions?
These are solutions that operate on the Public Cloud environment. SAP Industry Cloud solutions are developed by SAP and its partners. The SAP Industry Cloud solutions are  available for the Private and Public Editions of SAP S/4HANA Cloud. The prerequisite for this solution is that the solution runs fully on the SAP BTP or can communicate with it. The user interface is based on SAP Fiori Design Guidelines. With respect to SAP S/4HANA Cloud, the SAP Industry Cloud solution can also be deployed as a side-by-side extension.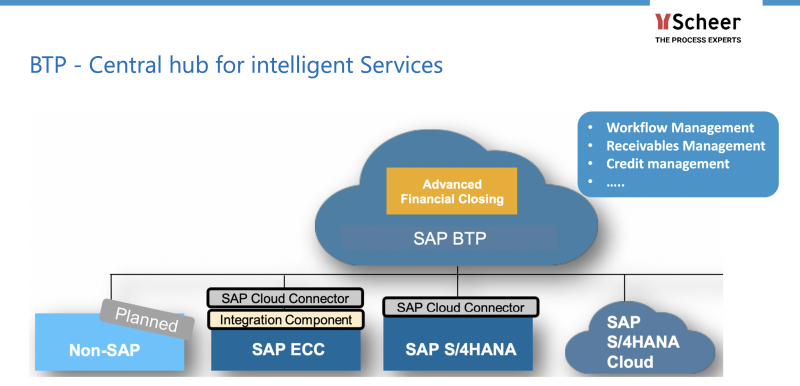 Example of an SAP Industry Solution is the SAP Advanced Finance Closing cockpit - One solution to support all financial closing processes of an enterprise. The solution is deployed as a hub for the different companies regardless of which SAP version, SAP ECC, SAP S/4HANA Public or Private Edition), is active.
With SAP Build, for example, you can apply process-automation within the BTP across solutions and to add process functionality.
SAP BTP and adding Custom Elements
The BTP is also used to add Custom Elements, such as Custom Fields, CDS (Core Data Services) Views and SAP BAPIs. SAP BAPI (Business Application Programming Interface) is a standard interface for the business object models in SAP products. This allows the possibility to add own functionality to the standard functionality without impacting the standard CORE of functionalities. Future updates can therefore be accepted without problems.
How is SAP BTP structured?
The SAP BTP is composed of four main pillars: Database and Data Management, Analytics, App Dev & Integrations and finally the deployment of Intelligent Technologies.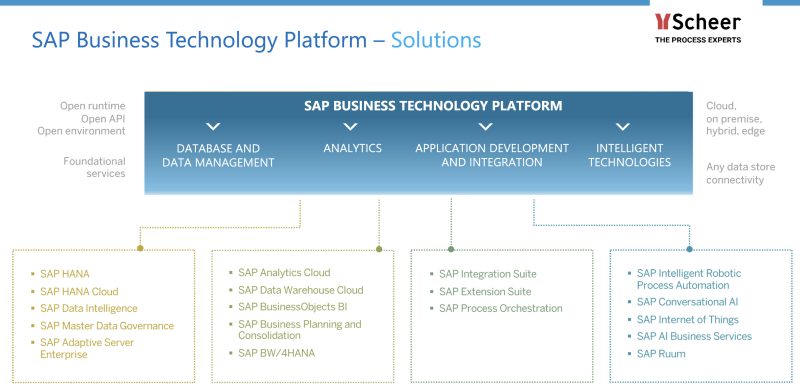 SAP Master Data Governance is a module that is increasingly being deployed for the creation and management of Master Data for the various SAP systems. This allows the data of business partners, articles, etc to be created in one place and shared with all the systems that use it.
The Analytics functions from the BTP is fully "embedded" within SAP S/4HANA Cloud. This implies that without additional tooling every SAP S/4HANA Cloud user has access to this functionality. SAP Analytics Cloud can be deployed for more advanced functionality and for the analytics of external data sources.
What is the SAP Integration Suite?
The SAP Integration Suite works with SAP One Domain Model. SAP One Domain Model is a single, coherent domain model for SAP's Intelligent Suite that includes the Digital Core and all SAP cloud applications. As a harmonized domain model for business objects distributed across applications, SAP One Domain Model provides a basis for a consistent view of master data across the hybrid landscape. By assigning objects to a central domain model, SAP One Domain Model enables applications to speak different languages, aligns configuration and transaction data, and lays the foundation for integration and extension scenarios. The domain model is published in the API Business Hub (https://api.sap.com/sap-one-domain-model).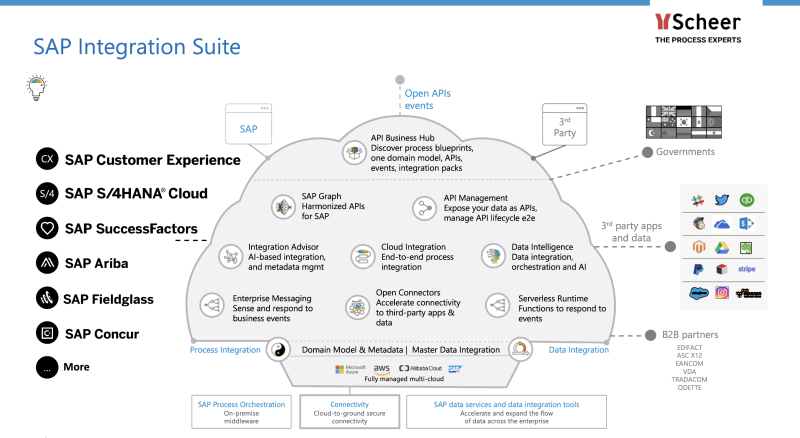 Through the SAP Integration Suite, integrations are processed with the SAP ECO system but also with non-SAP applications available as SaaS. Examples include Microsoft Teams, SalesForce, ServiceNow, ADP, DropBox. The SAP Integration Suite provides Process Orchestration, Data Integrations and Events Handling. Through the Event Mesh, interactions between different applications can be managed on a real-time basis.
SAP API Hub
There are now 4.700 interfaces available for integration that can be deployed immediately (see https://api.sap.com/ for full details) to support 300+ business events. The design of these Business Application Interfaces(Bapi) ensure easy integration.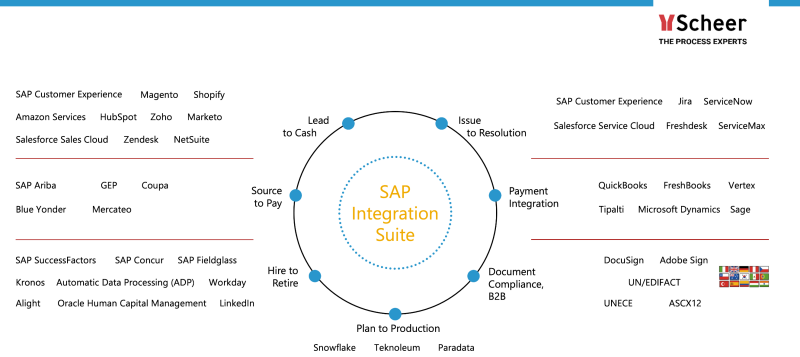 What is the SAP Extension Suite?
SAP S/4HANA Cloud comes with generic extension options, which are called extensibility Options. For example, there are Key-user, Developer and Side-by-Side Extensibility's.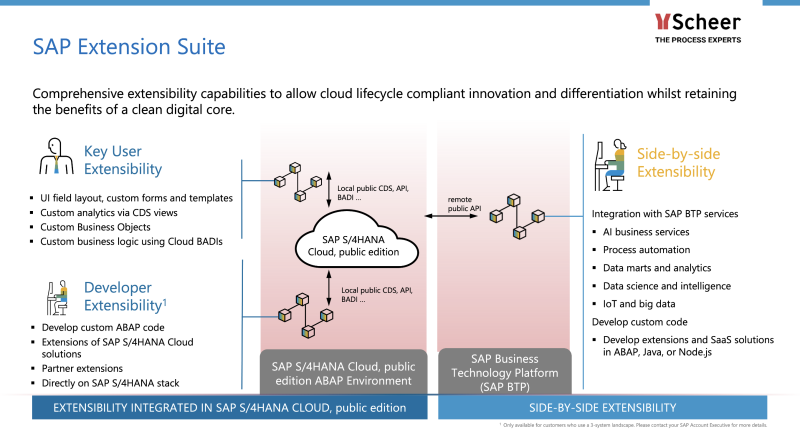 Key User extensibility - to easily extend basic UI, analytics and simple custom logic. In-app extensibility is a concept that was introduced with SAP S/4HANA. It provides a framework for building SAP Fiori-based customizations within the SAP S/4HANA system itself. It is best suited for extensions intended for SAP S/4HANA users that work only with SAP S/4HANA data and processes.
Then we have Developer extensibility - only available with 3-system landscape installations - with more extensive custom ABAP code, extensions to what SAP has to offer, partner extensions, etc. you can develop. Directly on the S/4HANA stack.
Third extension option is the Side-by-Side Extensibility option - Here you can use SAP Business Technology Platform to develop more advanced, decoupled extensions to work with S/4HANA Cloud and other solutions. Side-by-side Extensibility is developed on the SAP BTP and are integrated into the application, instead of developing them directly in the original application itself. This not only minimizes upgrade efforts, but also opens SAP systems to technologies such as JavaScript, artificial intelligence (AI), machine learning (ML), Internet of Things (IoT) and many innovations, while allowing ABAP developers to use an agile cloud development environment at the same time.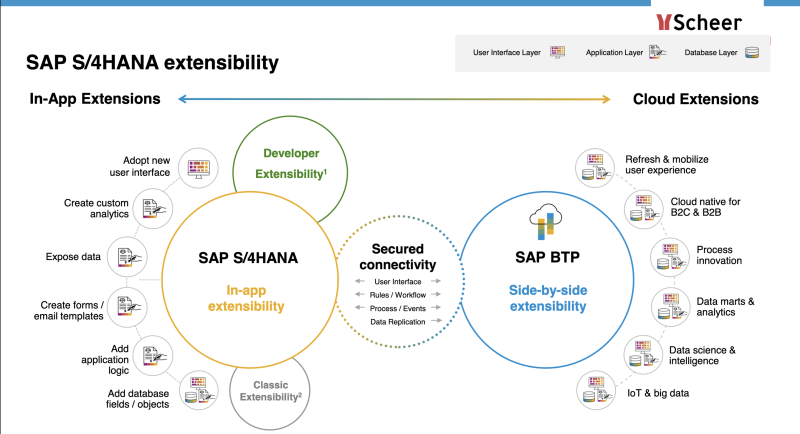 Through the Extension Suite, additional functionality can be added to standard best practices based on a trigger. This additional functionality is realized via so-called side-by-side Extensions and thus ensure that your ERP Core remains clean.
In addition, SAP provides additional tools and a framework to address the last leads of localization. For example, Configuration Localization Tool for developing new local versions. Payment Media Workbench for managing different country-specific payment formats, developing statutory reporting with Document and Reporting Compliance.
Webinar Specials & Replays
On our webinar page you can see the program of scheduled webinars around SAP S/4HANA Cloud, Public Edition.
For questions regarding the deployment and capabilities of the SAP Business Technology Platform, please feel free to contact us.