Why is a cloud mindset for companies needed?
Scheer Netherlands celebrates its first anniversary of being ten years SAP Public Cloud ERP Partner. In 2012, we started a new venture, fully focused on SAP Public Cloud.  In 2022, we look back at our SAP Public Cloud journey of the past ten years by sharing a specific topic every month. In this second article, Gerard van Gent answers the question "Why a Cloud Mindset for organizations is needed to be successful with SAP Public Cloud". Gerard is one of our senior SAP Business Consultants with a broad experience of both SAP ECC (on-premise) and SAP Public Cloud implementations. Gerard was involved in various SAP Public Cloud Journey discussions for local and international organizations.
Making the transition to the cloud is not just a technology or process challenge, but also a significant cultural change that starts at the top. Therefore, a Cloud Mindset is a prerequisite for successful digital transformation of current and/or future business process(es). A successful SAP S/4HANA Cloud journey starts with a clear direction for business innovation and growth, automation and simplification through a digital business model. Organizational changes such as re-skilling current resources in IT and business functions are an essential part of this transformation
A Cloud Mindset implies embracing change, deploying best practice solutions, and promote self-control. Not building anymore but configuring.
Why is a Cloud Mindset needed within companies?
Being able to leverage growth: When the business is going to grow organically or based on acquisitions, working out a Cloud solution is crucial.  The speed of implementation, the standardization of business processes, ensures a solid operational base. Local laws and regulations can also be met based on the available localizations.
Simplifying the solution to support your business: Time-to-market is getting shorter, and the speed of action is becoming increasingly important. With this comes a mindset that bets on simplifications. Go for the deployment of standard best practices and possibly supplemented with white-listed APIs for necessary integrations with additional applications.
Reducing cost of ownership: The key drivers for operational costs in today's ERP On-premise landscapes are related to 'keeping the system alive': support incidents, changes and releases of a dozen instances of custom code. Costs without innovations, just to let it run. SAP Public Cloud provides significant savings in the cost to acquire, maintain and use ERP. Apart from the savings, additional functionalities are also available. These include localizations for use in different countries, use of automated testing to periodically validate existing and new functionality quickly and adequately, available analysis and reporting capabilities and access to intelligent technologies.
Create a long-term and lasting Cloud Center of Expertise framework
The Cloud Mindset is not purely focused on software solutions from the cloud. It is much wider, and this Cloud Mindset needs to be translated to arrange a successful transformation.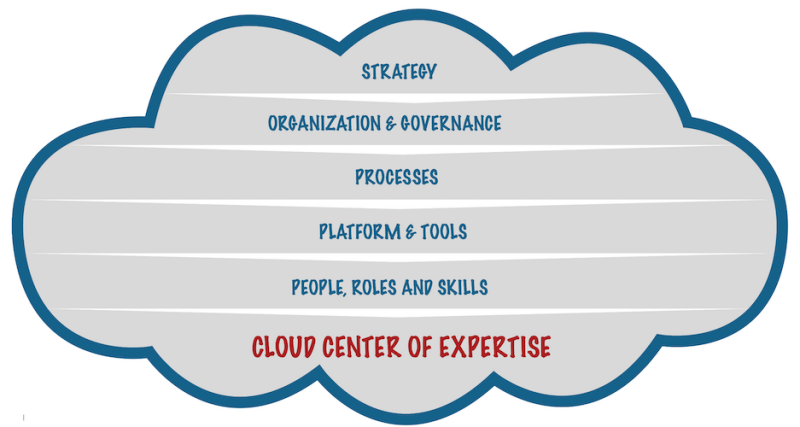 There are five levels to be included in this definition:
Cloud Strategy:  Define your Cloud strategy and align this with your organization and business goals. This could include a Cloud Roadmap.
Organization and Governance Model: What are the restrictions, opportunities and challenges for your business with Cloud ERP and what are the governance rules that applies to the Cloud applications.
Scope of the Processes: Overview of the end-to-end business flows and how these flows can be supported from the Cloud and/or current on-Premise applications.
Platform, Tools & Standards: Guidelines to deploy Business Technology Platform, necessary integrations, security, single sign-on options
Necessary Skills and staffing: The Cloud Transformation requires to introduce new roles and abandon others, both within IT and Business environment.
Using SAP S/4HANA Public Cloud means no need for system, database, and application administrators. On the other side, the business needs to develop skills related to Digital Business Analyst, Business Architects, UX developers, Prototyper and Data Scientist.
Create joint forces between IT and Business
Adapted and enriched IT services will strengthen the collaboration between business and IT. This collaboration enables new technologies to leverage and to create broader business value. For the IT division to help drive innovation, new skills are required – reducing the demand for today's skills that are focused on operations-based practices. This requires an early transformation of the employees in both business and in IT. SAP S/4HANA Cloud is the catalyst for both demanding these new skills and supporting digital transformations.
Run best practices – rethink your processes, configure and run
Within SAP Public Cloud, you are not able to change the so-called scope-items to define your existing end-to-end business process. As the current SAP scope items are very content rich, the need for customizations will be low. By adopting a fit-to-standard approach, the organization is encouraged to adopt best practice processes. In case of real gaps, best of breed cloud solutions can be integrated through whitelisted APIs. In order to be successful, the key users retain an important role with great organizational culture shift. They lead this adoption of standardized SAP S/4HANA Cloud business processes, helping to move the user community from manual and shadow IT processes, often supported by Excel and phone conversations.
Rethink your processes also includes the process of updating and innovating. Adopt automated testing, which is standard feature of the SAP S/4HANA Public Cloud package. Automated testing will increase quality and expectation of current and new innovated functionality.
Stay Current – Enjoy the movement
Important aspect of SAP Public Cloud that your system is current – even more then current, as periodic innovations are direct available to be used.  Companies can utilize these advantages to further digitize, automate, optimize and innovate their business practices. And close perceived 'gaps' from the early days of the Cloud Journey.
Improved Self Service capabilities – stay in control
Enhanced user frontends enable business users to make simple configuration changes. Today's business users have a higher affinity for new technologies than their predecessors. The ability to define KPI's that are measures and shared real-time, improves focus and success ratio. Mobile apps can be used anywhere, anytime to facilitate managers to apply quick and thoughtful decisions, without additional calls or ad hoc spreadsheets.
Another important resource for (key)users is the availability of the LearningHub, where users can create their role-based learning journey to explore and learn new features in their own pace and environment.
Conclusion for creating the Cloud Mindset within the organization
Public Cloud provides a new environment to support the business. The preparation and transformation to SAP Public Cloud requires the right preparation in the choice and deployment of people and resources. Success is assured, both for the business, employees, management and customers.
Feel free to contact me to in case of questions,
Gerard van Gent
Senior Manager - SAP Public Cloud solutions
---
10 Years SAP Public Cloud Blog Articles