Scheer Netherlands celebrates its first anniversary as an SAP Public Cloud ERP Partner for ten years. In 2012, we started a new venture, fully focused on SAP Public Cloud. In 2022, we look back at our SAP Public Cloud journey of the past ten years by sharing a specific topic every month.
In this third article, Marina Hommersom answers the question, "What are the benefits of a Fit-to-Standard approach?" Marina is one of our senior SAP Business Consultants with broad experience in SAP Business ByDesign and SAP S/4HANA Public Cloud implementations. Marina was involved in various SAP Public Cloud projects in Australia, Colombia, the United States, and the Netherlands.
Shifting from monolithic ERP to agile and scalable ERP Cloud platform
The deployment of SAP Public Cloud implies the shift from a monolithic architecture to an agile and scalable architecture.
IT is in charge of management and development actions. Most Corporate SAP systems contain a monolithic architecture to manage all ERP requirements. Solutions are customized, and documentation is rarely updated.
Changes in capacity and functionality demand significant efforts and investments.
The Public Cloud ERP solutions are agile and scalable. The business has complete control, and it takes 4-6 months to implement new projects: no upfront investments, only expense costs.
What means "Fit-to-Standard"?
'Fit-to-Standard' is the implementation approach advocated by SAP to enable faster adoption of S/4HANA Cloud ERP. It consists of using the industry's best practices to create a clean core solution for the business to function adequately using SAP systems.
The simple answer is: "Configure the ERP environment in such a way that the present functionality supports your processes". The SAP Best Practices of SAP S/4HANA Cloud know all variables to manage standard to complex processes. The Fit-to-Standard approach does not mean less options. Fit means that you need to understand the end-to-end business flows, including integrations or interactions with various modules, to ensure exemplary working configurations.
This Fit-to-Standard also includes the Application Interfaces to create connections with other SAP or non-SAP ecosystems. Please start with the existing, white-listed API's to make it work.
An example is Revenue Recognition for Professional Service organizations. This feature is standard available but with quite some options. You need to understand the complete picture to configure this in the right way:
Event-based or time-based
Realization Method: Cost-based, Revenue-based, Completed Contract or Manual Accruals
Alignment to IFRS15 or other GAAPs
Set-up of the Integration with Project Profitability App
5 Reasons that benefit from Fit-to-Standard
Following the Fit-Standard approach makes your solution constructive, and it is ready to adopt new innovative features without any interference.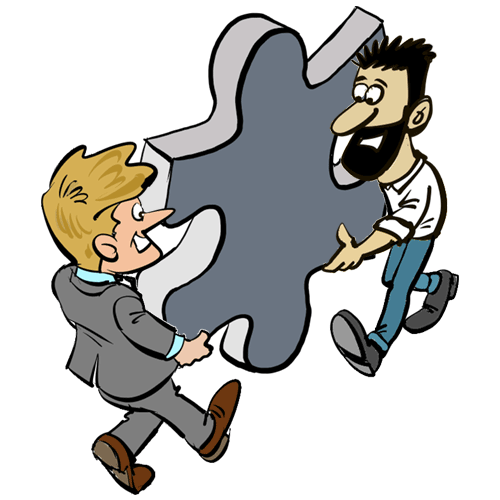 Fit-to-Standard Approach - Just configure - No Development
I want to share the following reasons to adapt our Fit-to-Standard approach from the various projects I have done over the last seven years with SAP Public Cloud.
Reason 1: Business rules ERP
The Fit-to-Standard approach's primary advantage is that the business is in charge of selecting/defining the correct configurations instead of IT/Development. No design and long-lasting development projects. Clear sprints workshop with all business owners to discuss and configure the options. These workshops have a lead time of 5 to 10 days. The significant advantage is that all employees can see and experience how it will be from the beginning.
Reason 2: Keep your ERP Core Clean
The Fit-to-Standard approach keeps your ERP Core clean. Not only today but also tomorrow and the days after. A Clean core means less complexity and no dependencies. Each future periodic update is activated rolls in without any problems. Stay current becomes a non-issue to achieve.  A second huge benefit of using standards is that the embedded Automated Testing can test the new periodic updates.
Reason 3: Shorten your implementation time
Deploying standards is the best way to benefit from ERP. Short implementation times to ramp up your ERP to changing business environments. A fast implementation time allows the expected success to come more quickly. Think about new business models, new subsidiaries, carve-ins, or carve-outs. And this advantage applies not only during the initial implementation phase but also during the entire life cycle of the solution.
Reason 4: More openings for centralized or decentralized solutions
The SAP Public Cloud ERP option gives enterprises a perfect opportunity to transform their business in a controlled way from a pure centralized to a more coherent set-up of solutions. In the digital transformation journey from an On-Premise ERP to a Public Cloud ERP solution, it is wise to identify these processes that can fit the standard Best Practices. Depending on your business, the answer could be different: Finance, Shared Services, Warehousing, new business concepts. The Fit-to-Standard approach creates an agile opportunity to extend the required business support with stand-alone SAP Public Cloud solutions connected to the old corporate SAP ECC environments.  Visit our start with RISE with SAP page to discover the option to start your journey to move your on-premise ERP to SAP Cloud ERP platform.
Reason 5: Governance & Security
Companies can scale their business processes across the globe by addressing country-specific requirements and regulatory needs by localizations. These localizations remove much complexity to support businesses around the world. For SAP, localization is a strategic priority. SAP offers the SAP S/4HANA Cloud localization out of the box for many local versions.
Conclusion to Fit-to-Standard approach to keep your core ERP clean
Our vision is that in the present era, ERP is the playing field of the business and IT is playing a supporting role. The agile and scalable Public Cloud solutions are the key components to streamline and support the business: make it also fit your business! After seven years of doing SAP Public Cloud implementations, I have a solid and thorough understanding of the quality and capabilities of SAP Best Practices. Feel free to contact my college, Josien van der Burg or me about SAP Public Cloud and the Industry Standards.
---
10 Years SAP Public Cloud Blog Articles