Finance Led ERP with SAP Cloud ERP
To provides financial Control throughout the process.
Today's world is characterized, among other things, by faster changes in the market model and internal and external stakeholders. Successful operations require adequate control methods and techniques must meet the new legal requirements and maintain full transparency. Such an environment involves an integration of the Finance & Controlling and the ERP system.
Finance & Controlling is a critical stakeholder in the process of digital transformation within the company. The goal is to achieve real-time transparency of the entire financial value chain, from planning, administration, and risk management.
About two-thirds of all business processes consist of finance and logistics. There is much to be gained from integrating these two worlds. For example, cost calculations for production requirements can be automatically updated in the accounting system and immediately affect the company's balance sheet.

SAP Cloud ERP provides full integration within the following components, among others:
Order to Cash
Plan to Produce
Procure to Pay
Record to Report
Hire to Retire
Each of these end-to-end business flows contains various Scope items for Finance Led ERP to be configured.
Visit the Knowledge Center Business Process Section to discover the details of the Lead-to-Cash flow , Source-to-Pay flow , Design-to-Operate flow or the Recruit-to-Retire flow.
The most critical financial tasks for any organization are the monthly, quarterly, and annual closings and budgeting processes. However, the producing of financial reports alone is no longer enough. Finance teams are required to provide mid-month snapshots of data and forward-looking forecasts, and real-time analytics. The requests include the data traditionally stored in the ERP system and completed with non-financial sources across the enterprise.
The demand for real-time insight-data includes a rapid expansion of information sources and information quality, including dynamic customer systems and supplier networks.
ERP customers face the challenge of navigating through information volumes and meeting complex reporting requirements.
Financial transformation drives innovation and helps control margins
A new business model creates opportunities and challenges.
Finance & Control has always been focused on financial reporting of the past period and performing the financial tasks. But nowadays the business needs more. The industry expects more then finance figures to provide the necessary insights for decision making.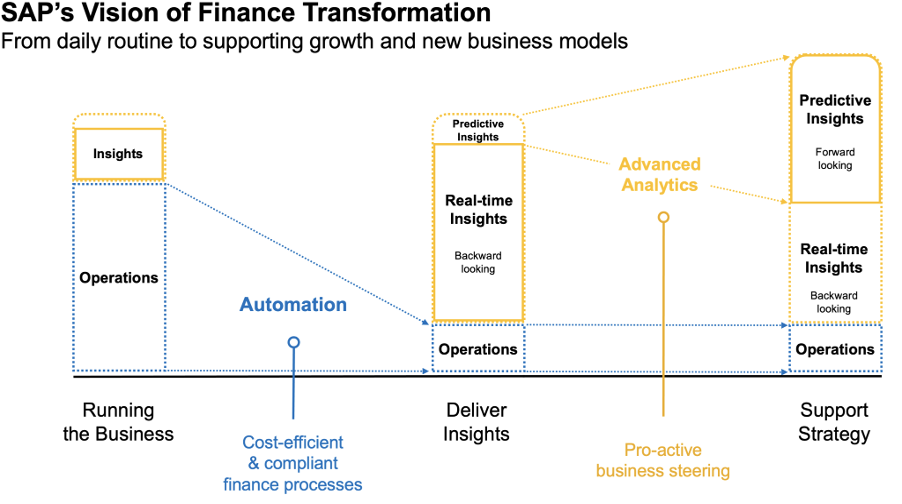 Automation within Finance & Control
To embed Machine Learning including automated tasks, will free up resources. Starting using real-time insights and KPIs ensures that the right things are given the right attention.
Manage the Future with Advanced Analytics
It is still quite common that Financial reporting covers the past in all kind of numbers and statistics. This is of course interesting, but tells us little about the future. And since the past cannot be changed, everyone is convinced to have more forward-looking insights. The reporting activities must be more efficient to support the operation processes with focus on more future-oriented insights, and make these reports actionable. bAnd this is where Advanced Analytics comes in, in various forms, including predictive analytics capabilities, smart alerts, more flexibility in reporting by leveraging built-in reporting capabilities within SAP Cloud ERP.
This setup frees up time to fill new innovative and valuable Advanced Analytics roles within an organization, providing a financially managed operation, including the following:
Using big data for financial and non-financial data

Developing and implementing new business models

Building expertise in the field of simulation and prediction (Predictive Insights)
Digital Transformation with Finance Led ERP
As a result, the Finance & Control department drive strategy in a very modern way by providing real-time insight and proactive advice on investments, mergers, acquisitions, and business models' implementation and transformation.
Besides, Finance & Control support the process of digital transformation across the enterprise. The sum of these changes can affect the entire financial value chain: from the way we bill, cash positions, report, and pay to the way we plan and control the business. Enterprises have recognized that financial transformation will help innovation
SAP Cloud ERP & Finance Led ERP

Scheer helps you transform into an agile company by digitizing your End-to-End processes based on Finance Led ERP. This setup can be realized within SAP S/4HANA Cloud as well as with SAP Business ByDesign. More details about Finance Led ERP can be found here.
Ferry Bogaards
Managing Director Scheer Netherlands