As part of the webinar series "Move your ERP to the Cloud", I presented a Manufacturing special, which was completely dedicated to the subject of "No Touch Order Processing" on October 22nd. My name is Martijn Mook and I am a consultant at Scheer Netherlands. My specialization is mainly in S/4HANA Cloud and Manufacturing. I have recently successfully completed several SAP S/4HANA Cloud implementations.
Below is a short summary of this Webinar. Watch the Replay here
This webinar was about the No-Touch Order Process concept.
What is it?
Why should you consider it?
To answer these questions, a traditional production process within SAP S/4HANA Cloud is run through to explain how the principle of No Touch Order Process can be applied.
No-Touch Order Process concept
The "perfect order" or no-touch order processing concept is a very interesting KPI.
A perfect order is one that:
Delivered exactly on time (100% on-time delivery)
With the right amount (100% file rate)
In the correct condition and packaging (100% correct quality)
With the correct corresponding documentation.
The "No-Touch Order" could be another aspect of this perfect order concept.
For manufacturers an interesting concept to pursue, where production due to e.g. errors during order entry can quickly go on the books.
The No Touch Order Process concept brings several advantages, think of:
It leaves more room for spending time on "high-value" tasks by employees, instead of repetitive tasks with little added value;
It reduces or eliminates the need for input moments in the system, reducing or eliminating human error;
At the bottom line, a no-touch order can reduce human labor hours and streamline the tasks of those employees;
Essentially, companies can do more with less.
Of course, no-touch order processing is not possible in all cases, nevertheless, it is an interesting concept to consider as a company.
Regular Plan-to-Produce Process
A regular plan-to-produce process can look like this flow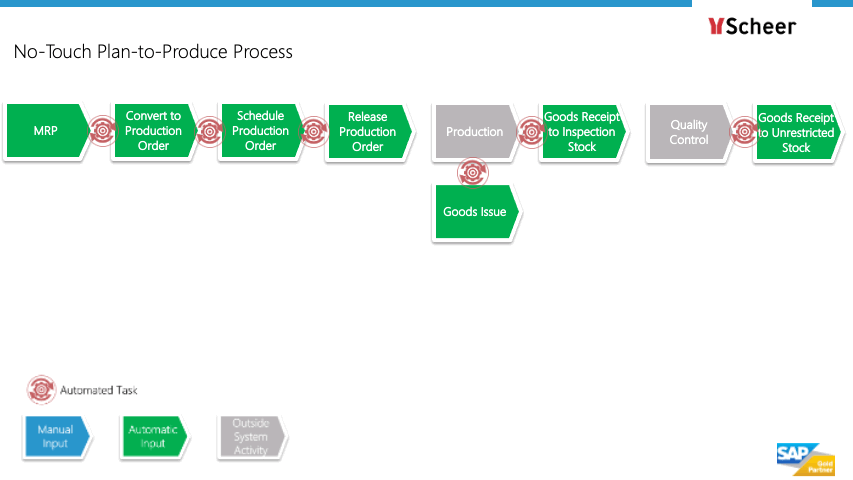 Monitor Material Coverage
This is an application that provides insight into any shortages of materials that may be required. In the current screen, we immediately get information about the materials that fall within our filters.
Schedule Production
To schedule production orders we can use the app schedule production. As a production planner, we have the possibility to schedule production orders over the available work centers.
Manage Production Order
An application that provides insight into all production orders that are open. Information about e.g. which order it is, what material is being produced, the status of the order. But also possible issues can emerge, see the red icons that then light up. In one overview you have an idea if there is a delay, or if components are missing that are needed for the production order. Here we could also release our order for production.
Manage Usage Decision
In the app manage usage decision you can see all inspection lots that still require a usage decision. You can click on an inspection lot of your choice, then see more detailed information such as "results history", quality score history, perhaps the quality checker has added a file in the inspection lot. And based on all this information a decision can then be made and the order can be released, if everything is correct of course.
So there are several steps where the number of manual input moments can be reduced by performing certain actions periodically or by configuring things to achieve this.
Transformation to No Touch Order Process
Below are the "adjustments" that have been made to move towards No Touch Order Processing
Convert to Production Order
An MRP run is carried out and production orders can result from it, in order to meet demand. Normally, the generated Planned Orders have to be converted manually into a production order. It is possible to eliminate this manual input by running a background run that converts Planned Orders periodically into Production Orders depending on set parameters.
Convert to Production Order > Schedule Production Order
Scheduling production orders is a precise task and can become quite a puzzle. Nevertheless, you can choose to schedule standard or recurring orders automatically without the need for manual input. By specifying a delivery date, SAP S/4HANA Cloud Manufacturing can schedule orders itself if there is capacity in the corresponding Work Centers. Only in the event of capacity problems, overlap, or other issues can the planner's attention be required.
Schedule Production Order > Release Production Order
A background run can also be performed for releasing scheduled production orders. Scheduled orders that fall within the specified parameters will then be released for production execution.
Production > Goods Receipt/Goods Issue
The production is carried out and the operator must confirm the production. It is possible to choose to automatically release the Goods Issue of used materials for this production order into the system on the basis of the confirmation of the production order or of a production step. The same applies to the Goods Receipt. When confirming production, the produced material can be automatically booked, for example to the quality stock, ready to be tested before it is released.
Quality Control > Goods Receipts
After performing the quality check there are certain values that emerge and must be registered by the quality manager. These values have to be assessed and eventually an "Usage Decision" will have to be made: have the materials passed the quality requirements? By setting up an automatic "Usage Decision" SAP S/4HANA Cloud Manufacturing will assess on the basis of the entered values during the quality check whether these fall within the limits of the minimum/maximum values. Subsequently, the system can determine whether this is the case and release the goods and transfer them to free stock.
SAP S/4HANA Release 2008 update
The SAP S/4HANA Cloud system is updated every quarter, and with this update, new functionalities are always available to the user.  Below is a summary of the issues related to Manufacturing from the release of August 2008:
Monitor Work Center Schedules
In the app Monitor Work Center Schedules, the user gets insight into all operations that are and will be performed at each work center. The app visualizes all these activities, and this overview is an aid in optimizing the use of the available work centers by matching their capabilities with the open production orders. From this dashboard production, orders can now also be rescheduled.
Area of Responsibility
Via the app Area of responsibility in S/4HANA Cloud you can now view all MRP controllers of each plant on a clear screen and assign those that apply to your user. As a result of these settings, only the materials for which your user is responsible will be visible in the relevant MRP apps. The responsibilities can be changed at any time.
Hand Over Purchase Requisitions
A new app is the Hand Over Purchase Requisitions, which allows the user to transfer all purchase requisitions generated through MRP, which are within your responsibility, back to the responsibilities of the Purchasing department.
pMRP
In the previous manufacturing webinar, the pMRP functionality already came to light, but in the current release, some extra functionality has been added. The Predictive MRP helps – at an early stage – to recognize capacity problems and to evaluate possible scarcity. The system will propose several available solutions to improve planning and available capacity.
The Predictive in pMRP thus refers not so much to Machine Learning, but to the possibilities to simulate capacity problems in the medium term. After performing the pMRP simulation, an insight into future capacity problems will emerge. The system shows that capacity problems may occur, which will have an impact on the availability of the relevant material in the coming weeks. Solutions that can be proposed are pre-production, changing the production source, or increasing production capacity.
Additional Information
---
Switch to SAP Cloud ERP
Scheer Netherlands has gained a lot of experience in supporting and guiding companies to SAP Cloud ERP in recent years. See our reference stories for more details about these projects. We periodically organize webinars about switching to SAP Cloud ERP. You can find the agenda and topics of these webinars here.
Scheer Nederland supports companies with the development of their SAP Cloud Strategy. The purpose of this is to provide insight into which SAP Cloud products can be used in which way to support your current and future business processes. More information on how to create an SAP Cloud Strategy can be found here: Move to the next generation ERP