SAP reviewed and approved our SAP S/4HANA Cloud Manufacturing Package as an SAP-Qualified Partner-Packaged Solution for SAP S/ 4HANA® Cloud on November 4th, 2022
What is an SAP Qualified Partner-Packaged Solution?
The partner-packaged solution addresses the specific business needs of companies in the Manufacturing industry in The Netherlands. The answer has been reviewed and qualified as an SAP-qualified partner-packaged solution for SAP S/4HANA Cloud, the Public edition. This packaged solution is deployed based on a predefined scope, leveraging pre-configuration, accelerators, methodologies, and tailored partner services to help customers run and realize a rapid time-to-value with reduced risk and a predictable outcome.
During the SAP qualification session, The Scheer Netherlands team received special compliments from SAP for presenting the solution's value proposition of the SAP S/4HANA Cloud Manufacturing  Solution Package. Scheer Netherlands showcased its competencies in both cross-sector and relevant critical industry scenarios.
Joost van den Heuvel (Partner Solution Adoption Director, Netherlands)
What can you expect from this Partner-Packaged Solution?
The main goal of partner-package-solution is to start simple. The package supports the implementation of a digital "foundation" for manufacturing companies that covers the primary end-to-end processes of Order-to-Cash, Plan-to-Produce, Source-to-Pay, and Record-to-Report.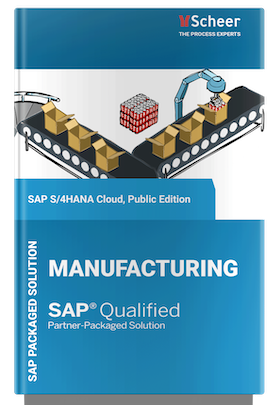 This partner-packaged solution runs with SAP S/4HANA Cloud, the public edition. From the first day of the project, the Starter System is available, including the necessary master data to start exploring the end-to-end processes.  The interactive "Fit-to-Standard" workshops are ideal for Business Managers, Application Experts, and End-Users to learn and understand the concepts of SAP S/4HANA Cloud best practices.  Via short sprints, the configuration of the end-to-end processes is coming to an integrated workflow.
"Of course, we are proud to have renewed our SAP Qualified Partner-Package solution for Manufacturing with SAP S/4HANA Cloud, the public edition. This renewal is also related to the successful implementations Scheer has done with the Public Edition of SAP S/4HANA Cloud. The continuous growth of functionality gives more and more companies a good reason to start. The current manufacturing solution supports both process and discrete production scenarios.  SAP recently introduced the 3-system landscape (Development, Quality, and Production)  to support companies in rolling out the Public Edition to various entities or locations.   In addition, the SAP Business Technology Platform ensures a working integration with SAP and non-SAP applications.  The combination of the Public Edition and SAP BTP is a perfect set-up for a Two-Tier ERP approach." 
Ferry Bogaards – Managing Director Scheer Nederland BV
SAP Expert Partner for SAP S/4HANA Cloud, the public edition
SAP Expert Partner indicates that Scheer has a team of qualified consultants certified for the SAP S/4HANA Cloud and SAP Business Technology Platform and has competed in at least 5 successful implementations. Over the past few years, we have completed various implementations with the public edition for Manufacturing, Consumer Products, and Professional Service businesses. Please visit our Reference page for more details about these projects
---
More information:
Flipbook Scheer's Manufacturing solution