Articles in this category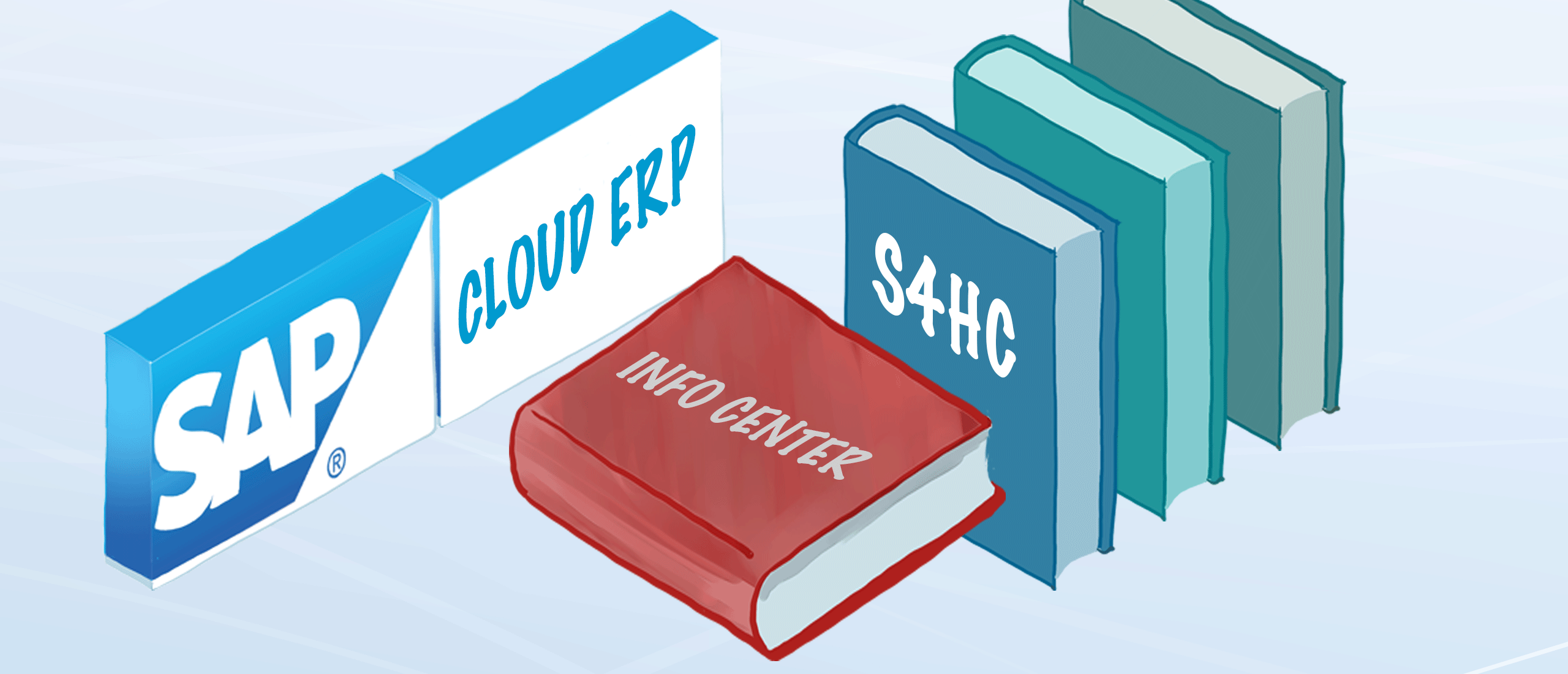 Highlights Release 2208 - August 2022
Product Update Release 2208 - August 2208
Information collected from the SAP Blogs related to the latest product updates - version 2208.
Watch the video to get an overview of the highlights of the latest release of S/4HANA Public Cloud.
Release and Update Cycle
SAP changed the update cycle for Public Cloud with SAP S/4HANA to ensure an even more smooth transition to fixes, updates and innovations. Instead of the four quarterly release, there will be now two major and 10 minor updates. These minor updates are planned and rolled-in on a monthly basis.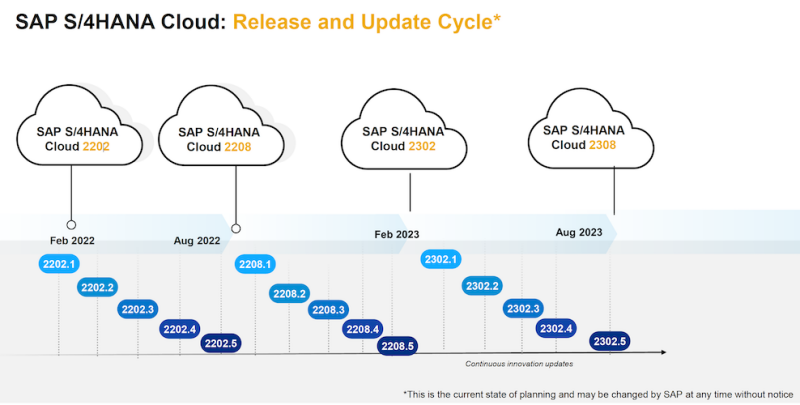 Key Innovations
Overview of the innovations included in the SAP S/4HANA Cloud 2202 release.
Finance
Advanced valuation jobs
App for review of group financial statement
Tighter accounting - integration with group reporting
Enabling use of the available balance in short-term cash positioning
Enablement of planning type for memo records
Assessment 
Enable external collaboration with service providers and subcontractors
Enhancements to the maintenance schedule for assets
Usability enhancements in the Maintenance Scheduling Board app –quick toggle and relationship offsets
Professional Services
Process extensibility from time recording to billing document output
Governance, Risk, and Compliance 
Integration of SAP Cloud Identity Access Governance with SAP S/4HANA for Advanced Financial Closing
Trade Compliance Checks for Purchase Requisitions
Sales
Triggering of mass changes to sales documents across document categories
Creation of sales scheduling agreements through spreadsheet upload
Handling of multiple addresses in sales documents using SAP
Service Management
Service Process Integration with SAP Service Cloud for Agent Desktop
Planned Cost and Revenue in Service Orders
Enabling Product Proposal in Service Orders
Enabling Service in Customer 360 View
Credit Management in In-House Repair
 Supply Chain
Update for managing physical-inventory count results
Ocean Freight Booking
Plant maintenance integration for cloud warehouses
Enable reversal of goods receipt and goods issue for third-party warehouse management systems
Warehouse APIs –create handling units and display available stock
Post goods movements directly from the Post Goods Movement App
Environment, Health and Safety 
New SAP Fiori app to monitor the work items from the incident lifecycle
Greenhouse gas report template: Formatting and additional functions
Solution Management
Accelerated customer returns support in solution orders
Credit checks for solution orders
Sales of services support in solution orders
Manufacturing
Advanced closed-loop inspection planning process that includes a graphical user interface for FMEA
Inspection execution for serialized materials and inventory managed stocks
Planning strategies: enable new strategies and improve visibility
Extended analysis of PIR accuracy
Product Compliance
New SAP Fiori app "Manage Poison Centers Notification" to manage poison center notifications
Use of National Fire Protection Association ratings for safety data sheets
2Tier ERP
Improvements in Group Reporting
Product Footprint Management Innovations
Predictive Maintenance with ServiceIntegration
Sourcing & Procurement
Verification of international trade compliance in purchase requisitions
Support for custom document types in purchase requisitions
Central invoice management -incoming invoice processing
Optimized sourcing of 'Direct Materials'
Sending inventory reservation requests from guided buying to SAP S/4HANA or SAP S/4HANA Cloud
Enterprise Portfolio & Project Management
Enabling Service Performers to Book Their Time on SAP Enterprise Portfolio and Project Management
Display of Assigned Work Order Costs in a Project Cost Report
Enable Approval Workflow for Enterprise Projects
Technology Topics
Custom Situations with Situation Handling –Extended
---
Finance Update
With the advanced valuation processes, time-consuming and cumbersome period-end closing tasks for valuations of invoices now belong in the past. The new advanced valuation processes in finance offer you a range of capabilities that you need to accelerate period-end closing activities and complete them in a much more innovative way. You carry out the operations in the form of jobs. All jobs and their results have a single entry point via the 'Schedule General Ledger Jobs' app. You can start and schedule them here and access the results using this app.
---
Manufacturing Update
The SAP S/4HANA Cloud 2202 release enables new planning strategies for products together with a selection guide. The new selection guide makes it easy for your business to choose and understand the delivered planning strategies. A set of questions guide you step-by-step to find the appropriate planning strategy group.
---
Environment, Health, and Safety
For Environment, Health, and Safety, the SAP S/4HANA Cloud 2202 release includes the 'Greenhouse Gas Report' template with formatting and additional functions. With this feature, our customers can specify the location and data classifiers that apply to a greenhouse gas report before generating the report file. They can also edit the unit of measures used for the report or convert values of different units to respond to specific requirements. The system supports the conversion and helps to convert the data automatically. This innovation tremendously improves the look and feel of the report and enhances the filtering and refinement of the data selection for the report. SAP Product Footprint Management is your solution to get insights into the environmental impact of products, as it allows for the calculation of product footprints. SAP Responsible Design and Production helps design products sustainably and build a regenerative business in a circular economy. SAP Sustainability Control Tower enables organizations to steer holistically, report, and perform to succeed in their sustainable business ambitions.
---
Supply Chain Management
Using manual planning with freight booking documents in the transportation cockpit enables businesses to perform manual transportation planning, even for ocean freight. This extension increases the business scope in maritime transportation and adds a freight booking scenario that allows companies to subcontract to freight forwarders. Furthermore, it is possible to create sales orders and freight units according to freight unit building rules (FUB rules). Companies can now directly assign freight units to a freight booking and distribute them to the selected containers. The new release also includes a dangerous goods check for marine.
---
Service
Service Order Management extends the capability by integrating the process with the agent desktop in SAP Service Cloud. This pre-integrated solution enables service agents to launch operations in SAP S/4HANA Cloud directly from the agent console, eliminating the need to switch applications. Additionally, this innovation simplifies project implementation, as core processes stay in SAP S/4HANA Cloud and surface in SAP Service Cloud contextually through mashups. We also add a timeline microservice in SAP Service Cloud, which captures key events of service orders such as create and status change with configurable events. Altogether, our SAP products connect as one pre-integrated solution that presents a true front-to-back-office story.
---
Governance, Risk, and Compliance
Another integration scenario with Governance, Risk, and Compliance is SAP Cloud Identity Access Governance with SAP S/4HANA Cloud for advanced financial closing. This integration supports managing user access and ensuring access compliance. Provision User assignments through access requests and perform access risk analysis. The key benefits for SAP S/4HANA Cloud for advanced financial closing are automated access management using auditable access requests and improved risk management that comes with role-level user access risk analysis and cross-system risk analysis.
---
Enterprise Portfolio and Project Management
Until today, only internal employees could record their time on enterprise projects in the SAP Fiori app 'Manage My Timesheet'. With the new enhancement, we enable service performers to book their time on the activities of enterprise projects by using the same application. With that, we deliver a trustworthy single access point for time bookings for all employees across your organization's projects. As the time bookings are posted further in Finance, these bookings will be available in your standard finance monitoring and reporting capabilities, generating additional transparency.
---
Professional Services
The project billing capabilities enable process extensibility to project billing requests and invoices through the timesheet. This feature allows for administrators to create a new custom field across multiple business contexts so that the information can flow end-to-end in the Professional Services scenario. Our customers can now leverage in-app extensibility for more flexibility in introducing compulsory custom fields in the end-to-end billing processes. The innovations of this release will enhance end-user productivity, increase efficiency during project billing and ease the transfer of custom fields detail from the time of the recording to the billing document output.
---
Solution Order Management
Solution Orders in SAP S/4HANA Cloud help your enterprise along the path towards greater profitability by combining sales of products, services, and service contracts, subscriptions, and projects under one order.
Important note: Solution Order Management is only available as part of SAP S/4HANA Public Cloud
---
Sales
For every sales business unit, we enable mass changes to sales documents across document categories. For example, you can make changes to multiple sales orders and sales quotations simultaneously and in only one step. We also add user-friendly capabilities to filter and prepare the changes, and we allow for transparent job monitoring and efficient postprocessing. Furthermore, the 'Mass Change of Sales Documents' app now supports consuming multiple addresses for a customer for all the sales document categories.
---
Sourcing and Procurement
Our SAP Central Invoice Management, an inbound processing module, complements SAP Central Invoice Management visibility capabilities with supplier invoice inbound processing. It is an application designed particularly for accounts payable accountants working centrally in an organization, e.g., shared services center. Deployed on our SAP Business Technology Platform (SAP BTP) and tightly integrated to SAP S/4HANA Cloud, it enables our customers to upload and edit draft invoices manually. It automatically reads the invoice content through a document information extraction service using optical character recognition (OCR) and provides seamless integration to SAP S/4HANA Cloud for further processing.
---
Asset Management
For Asset Management, our SAP S/4HANA Cloud 2202 release enables external collaboration with service providers and subcontractors. The new 'Manage Components and Services' app allows you to view and manage all externally-procured materials and lean services required to execute your maintenance orders in a single place. You can filter for externally procured components and services by one or more maintenance planning buckets, pending procurement activities, and other criteria. Furthermore, the system displays all non-stock parts and lean services that match the selected filter criteria.
---
Product Compliance
The new SAP Fiori app 'Manage Poison Centre Notifications' supports poison centers in identifying a mixture in question and providing the best possible assistance to save people's lives. With this feature, you can add the compliance pattern 'Poison Centre Notification' for unpackaged products and raw materials. Moreover, our customers can now assess products and indicate whether European poison center notification is applicable and assign unique formula identifiers to unpackaged products.
---