The Webinar of 21 November 2019 is part of the periodic webinars that Scheer Nederland organizes to give companies insight into the possibilities of SAP ERP Cloud and the transition towards ERP from the Cloud.
Scheer Nederland supports medium-sized to large organizations with local or international ERP Cloud deployments that focus on SAP Cloud ERP with private or public cloud solutions.
The "SAP S/4HANA Cloud – Embedded analytics for simulation, prediction & insight-to-action" webinar is designed to gain insight into how this Cloud ERP can be used. During this webinar, extra attention will be paid to the analytics features. This analysis tool can be used for simulation purposes, and working out predictions. In short –This webinar we will mainly explain the Intelligence function of SAP S/4HANA Cloud.
The presentation of this webinar was provided by Stefanie Schulkes, SAP Cloud ERP consultant at Scheer Nederland.
The replay and presentation of this webinar can be found on our Dutch website here.
The webinar consists of a short introduction to S/4HANA Cloud first. Next, the capabilities with S/4HANA Cloud system related to Embedded Analytics are explained.
This report discusses the following topics:
Why selecting SAP S/4HANA Cloud?
The application is a Cloud system, so can be reached via a web browser. This can be done either on laptop or PC as well as tablet or mobile phone. This always gives you the real-time data at hand, even when you're on the go. SAP S/4HANA Cloud is role-driven, developing the various analytical reports and transactions in the context of the specific roles.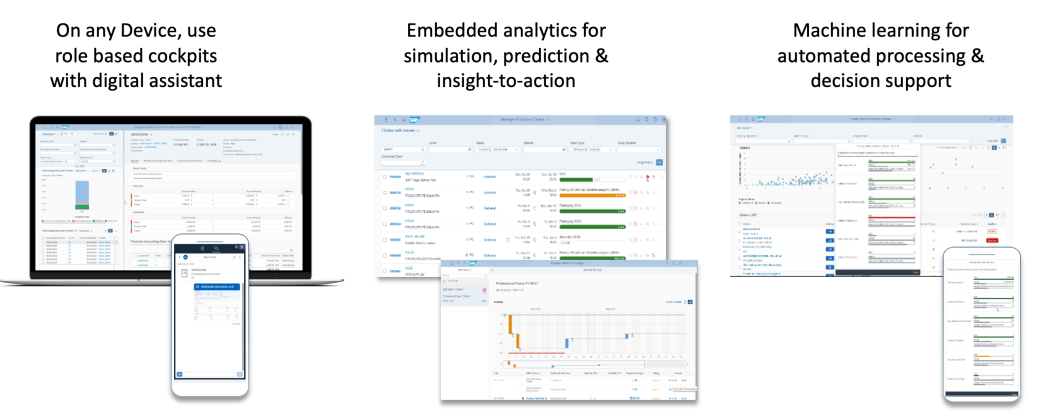 SAP S/4HANA Cloud offers many analytical capabilities to always provide insight into real-time data, which also allows the user to determine how any follow-up actions should be performed. In addition, SAP S/4HANA Offers Cloud Machine Learning tools that can train the system to provide better solutions for the end-user.
During the demo, the different possibilities of S/4HANA Cloud in the field of analytics will be specifically discussed.
How does the Embedded Analytics functionality work within SAP S / 4HANA Cloud?
In an SAP system, there is a lot of data from different business processes. Embedded Analytics is the combination factor between the data and the processes:
The reports that are present in S/4HANA Cloud by default give you insight into the business processes and make your business smarter
You can act based on the results in these reports.
The analytics offered by S/4HANA Cloud is there for every line of business, such as Sales, Procurement, Finance, and Manufacturing, but are also a standard part of the system.
These reports are delivered equally with the system and therefore you always have the up-to-date data at hand.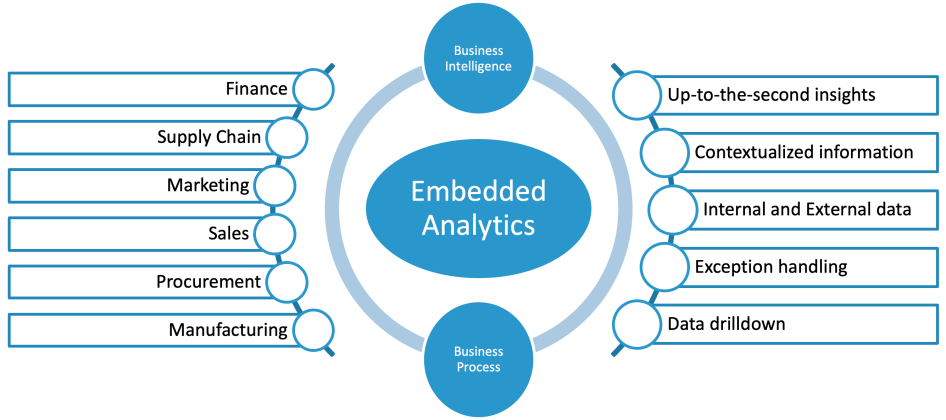 SAP S/4HANA Cloud has standard reports and KPIs for each domain to quickly inform the user of the current situation. In addition, S/4HANA Cloud comes with Overview Pages that gives the user quick insight into various reports, in the context of the role of the user. These overview pages display previews of different reports, from which a user can navigate to a transaction to analyze, resolve exceptions or, possibly notify other users in the process.
Another feature from SAP S/4HANA Cloud is the ability to generate Predictive Data. There are different scenarios in the SAP S/4HANA Cloud system where the system can be trained to make the best possible prediction of the data in the future. Here, you get the best possible preparations for the future.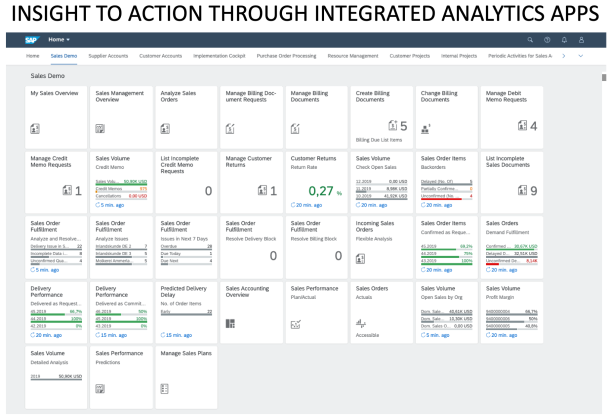 On the screen print above is a SAP S/4HANA Cloud Sales page with many different tiles that all have a relationship with Sales. This homepage is completely adapted to the seller's wishes, creating a combination of both transactions, KPIs and reports. These pre-impressions are always up-to-date, and this allows the seller to take action immediately when action is to be taken.
Furthermore, analytics in SAP S/4HANA Cloud ensures that the system sends task-oriented users into the processes that need to run. A small example of this is that the system analyzes when a Sales Order needs to be delivered, generating a list for example the demand scheduler to meet customer demand. Once the demand planner has performed his or her tasks, the warehouse employee can get another task to pick and pack the order so that this order is ready for shipment.
A tile on your home screen can correspond to a report that is based on the preview. The preview allows a user to analyze and correct any specifics as well.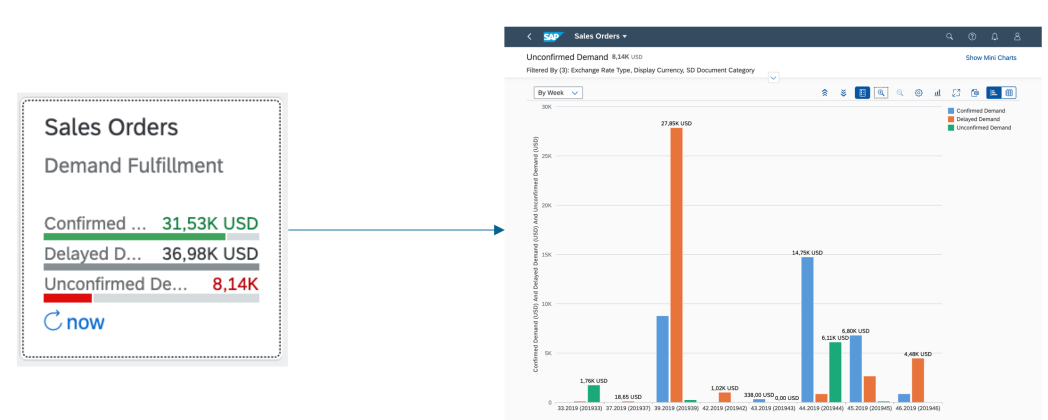 Once an action is taken to remedy this deviation, your KPI or preview on your home screen will be updated immediately, so that users immediately regain the real-time data.
A big advantage of the Embedded Analytics from SAP S/4HANA Cloud is that the data is real-time and that the data is built from different business objects, in order to be able to do an integral analysis. There are different types of reports, with different types of views. You can think of a table overview but also different types of graphs. To make sure you can always access your data, Reports from S/4HANA Cloud can be viewed not only on laptop or desktop, but also on tablet and mobile devices.
In addition to the fact that the application itself produces a huge amount of reports by default, users also have the ability to customize reports in a very easy way. For example, characteristics can be added to reports, where the report can also be stored and shared with other users. Not everyone has to create their own report version and the entire company can view the same data. In addition, there are also integration capabilities with, for example, SAP Analytics Cloud where different data sources can be combined, so that data from different systems can be compared or combined. Think of this, the company runs with a number of branches on ECC and a number of branches on SAP S/4HANA Cloud.
SAP Analytics Cloud is a separate product of SAP.
How the Analytics function works within SAP S/4HANA
S/4HANA Cloud offers several analytics options in the form of reports. This availability of the reports depends on the user's role. In addition, there are several analytical outline pages. These are overview pages with different KPIs and small views of reports. In doing so, a user sees the same way as the company stands for it without starting the individual reports separately. But from the analytical outline pages, it is possible to click through to open the underlying report. The underlying report also allows you to click on a transaction to resolve any details.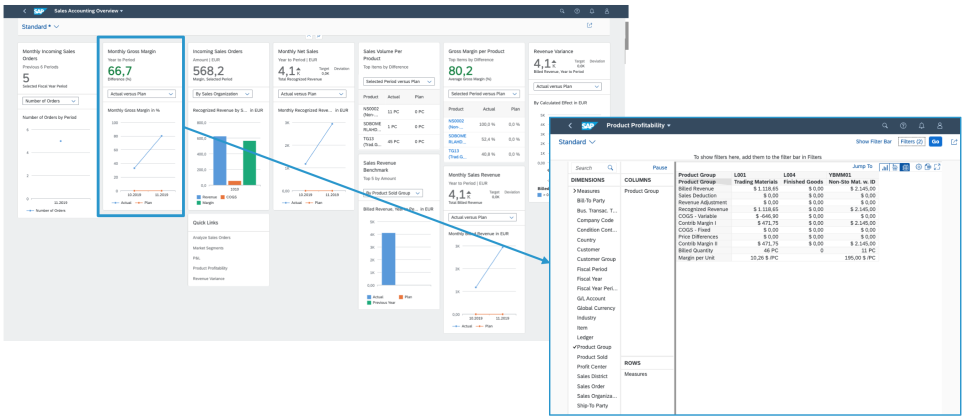 Each report created on a particular data source. If the report is not what you're looking for as a user, but you need the data from the data source, you can create a custom CDS view: hereby create the report in your own way, so that it meets your company's requirements exactly.
Finally, S/4HANA cloud also owns Predictive Models,where the system can train itself based on data already in the system to predict what the same data will look like in the future.
Each report created on a particular data source. If the report is not what you're looking for as a user, but you need the data from the data source, you can create a custom CDS view: hereby create the report in your own way, so that it meets your company's requirements exactly.
Finally, S/4HANA cloud also owns Predictive Models,where the system can train itself based on data already in the system to predict what the same data will look like in the future.

The above report from S/4HANA Cloud indicates that three types of data can be combined in the same report:
Planned data: this is data that you think will occur, that's how you roughly planned it.
Current data: these are the data that are actually booked in the system.
Predictive data: this is data in which the system is trained to set up. They look at past data that has been entered in order to discover a trend and to predict future data.
The predictive data is therefore based on actual data, but can always be re-trained to make the predicted data as accurate as possible. As soon as the system has been re-trained, this new predictive data is immediately included in the report.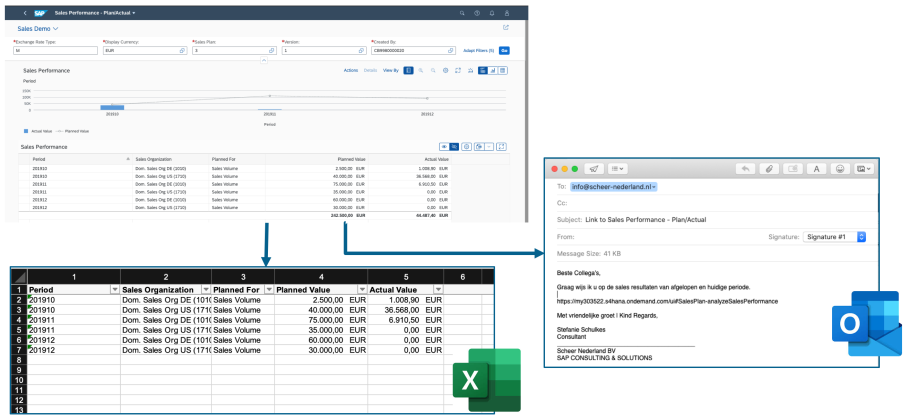 The data is therefore always accurate in the system, but can also be disseminated within the company so that everyone, for whom the report is interesting, is immediately aware of the latest state of affairs. Reports in S/4HANA Cloud can be downloaded to Excel for distribution within the company. You could also store results from the system locally or share them with others in the company or interested parties who do not have access to the system.
For people who do have access to the system, including the right privilges, an email can be sent from S/4HANA Cloud containing the direct link to a report. Colleagues simply have to open the mail and click on the link to gain immediate insight into the state of affairs.
In addition, you can create your own SAP Fiori Tile from a report on your home path, with which you can also give a preview of the data with which an employee can immediately see when he or she must take action.
Overview of the 1911 new Embedded Analytics functionalities
S/4HANA Cloud is automatically updated by SAP every quarter and new functionality regarding Embedded Analytics is also added every quarter by SAP. An overview of what was included in the 1911 Release of S/4HANA Cloud regarding analytics:
Prediction of slow or non-moving Materials
New CDS Views for Asset Management
Manage Statistical Key Figure Values
Advanced Compliance Reporting
Enhancement for Predictive Material and Resource Planning
CDS Views for Customer and Internal Projects
CDS Views for Bill of Material
Product Hierarchy in Sales Analytics
Service Analytics:

Overdue Service Orders analysis
Expired Service Contracts analysis
Service Order Issues

Procurement Analytics:

User-defined Criteria for Supplier Evaluation
Purchase Order Output Automation Rate
Monitor Purchasing Analytics Operations

CDS Views for Inventory
CDS Views for Financial Services Business Partner
Using Analytics within the organization
Now that we've seen what the system has to offer, it's also important to see how we can make sure that all these analytical tools are also well used by all users in S/4HANA Cloud. In addition, you can analyze a few focus points:
Explore the various embedded analytics capabilities and determine what may be relevant for the organization.
During the implementation process, make sure you look at the different overview pages and analytical reports and also involve your users. They will rather understand what certain reports show and how to best analyze the data.
It may very well be that during the process there are several reports of interest that may not be standard with the correct selection or display in the system. Take the users into the process of creating a new report.
Finally, it is important to give users their own freedom to develop reports so that the data will also live more with users.
Move to SAP Cloud ERP
Scheer Nederland has gained a lot of experience in recent years with supporting and guiding companies to SAP Cloud ERP. See our reference stories for more details about these projects. We periodically organize webinars on switching to SAP Cloud ERP. The calendar and topics of these webinars can be found here.
Scheer Nederland supports companies by developing its SAP Cloud Strategy. This is about to provide insight into which SAP Cloud products can be used in any way to support your current and future business processes. More information to arrive at an SAP Cloud Strategy can be found here: Move to the next generation ERP