Time recording for Teams
Time recording for Teams provides tremendous acceleration and simplicity
SAP Business ByDesign has had a so-called sweet spot for Professional & Technical Services for years. Also, since 2012 Scheer Netherlands has provided many companies, including their branches with SAP Business ByDesign, to support their projects. Ferry Bogaards – Managing Director of Scheer Netherlands – was himself often directly involved in these implementations and came to the conclusion that managing projects could still be more effective if the focus were on teams instead of an employee. Ferry decided to develop a Project App with his SAP Cloud Development team, especially for projects and teams. On July 2nd, the SAP App Center added our Time Recording Employee App.

Why was this Project App Time Recording for Teams developed?
Scheer started developing the Time Recording Employee App because we noticed that time recording for a group of employees is not efficient and user-friendly within SAP Business ByDesign. In the standard version, you need to go to various areas of the application to maintain personal HR and project recording. With this Project App, we bring all the necessary functionality back to a single dialog to manage all activities related to HR and Projects.
A team leader or project manager can now register or correct the time of all team members. They can use use the wizard to maintain project time recordings for the entire week in just a few clicks. This Time Recording Employee App supports fast registration of project and HR time for team members and even across various projects.
What are the benefits of this Project App?
With the use of this Project App, we immediately see the following advantages:
Reducing work effort
In a single screen, project managers or supervisors can record the project and HR time for their entire team for one week. With the App, you can copy time indications from last week or enter time using a wizard and add extra team members to a project.
Improve completeness speed
The Project App provides one overview with the complete time registration for your team on a specific project and other projects. The HR time(s) are also shown and can be changed immediately.
Eliminate human errors
Using the wizard, the project manager or supervisor can quickly set time for multiple resources in a single click. The App automatically validates projects, resources, and time data, ensuring that these changes are processed error-free.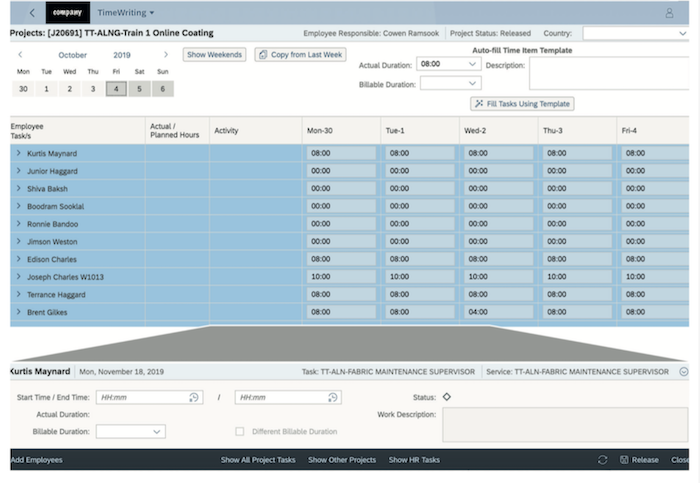 To what extent can the standard Apps of Business ByDesign not be used for this?
The standard Apps of Business ByDesign (Browser and mobile App) handle an individual's time writing only and within a single day. Thus, the total overview of the different employees is missing, and you need to maintain related activities in other places within the application.
How does an App work together with the standard functionality of Business ByDesign and in particular with quarterly updates?
The strength of the Cloud applications – and indeed of SAP Business ByDesign – is that it is possible to work with standard functionality without customizations. Scheer created this Project App as a side-by-side extension on the SAP Cloud Platform, which guarantees both non-disruption of vanilla application logic and an equal security level. This App runs on top of the standard functionality.
The Side-by-Side extensions run on the SAP Cloud Platform using SAP standard SOAP and Odata services and make the Project Apps independent of the SAP Cloud ERP release. There is no need to install the software development kit.
What is the advantage of Apps running within the SAP Cloud Platform?
The SAP Cloud Platform offers the highest security and authorization possibilities to deploy additional Business Apps in a controlled way.
The Apps run on the SAP Cloud Platform with all the authorizations, security, and policies activated. This App uses encryption to secure all communication channels.
How user-friendly is this Project App?
The Project App is developed with SAP Fiori (HTML5) to provide a consistent user experience with SAP Business ByDesign and the existing mobile Apps. SAP Fiori ensures a consistent look-and-feel for the end-user on a desktop or tablet. This intuitive user interface makes it easy to deploy, even for non-SAP ERP users.
In which languages is this ProjectApp available?
Standard English, but any other language is straightforward to add, at no additional cost.
Can we expect even more functionality?
It is our experience that companies have specific wishes for their Teams and projects. The Project App can be customized specifically.
We have noticed that each customer has precise wishes and requirements regarding group timesheets. That is why we sell the App with the possibility to make it even more special. This App already has much functionality to which a customer can later add their functionality.
Interested?
Request a demo or the possibilities to perform a Proof of Concept without any obligation.
More information about the Project App Time Recording for Teams